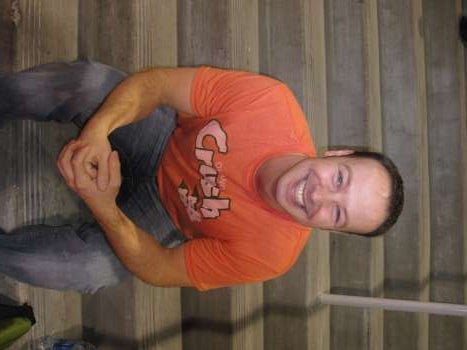 Call him the Hannah Montana of the Internet: He's a YouTube star (with 109 million views and counting of his Evolution of Dance video) who has performed on national TV, in several rock videos, and around the world–yet he can walk down the street without being recognized.
His secret? The video quality wasn't all that great. "You don't really see my face that well," says Laipply, who–wearing the same outfit he wears in the video (jeans and an Orange Crush T-shirt)–attracts hardly a second glance on the floor of the 2009 Consumer Electronics Show in Las Vegas. And as far as he's concerned, that's a plus. "I don't have to deal with that stuff," he says.
Laipply (rhymes with "ripely") is at CES to promote the upcoming (and long-awaited) sequel to Evolution of Dance, which will debut Monday on the Today show. Up close, the 32-year-old Cleveland resident looks as cheerful as he does in the video–and he's in considerably sharper focus, with bright blue eyes and an infectious grin.
Why shouldn't he be smiling? Though EoD's popularity didn't make him rich in and of itself, it did allow him to bump up his fee as a motivational speaker, which means that he can be a bit more choosy about the gigs he accepts.
He's also working with several sponsors. EoD2's official sponsor is Saveology.com (formerly homes.org), a site that aggregates vendors' offers for a range of household services (utilities, credit cards, cell and VoIP phone services, and the like); Laipply also works with Peoplejam.com, which he describes as "a destination site for all things self-improvement."
Peoplejam has created an Evolution of You site where EoD fans can upload an image of their face and superimpose it on a figure that dances alongside Laipply to some of the music from the new video.
However Laipply's deal with the Today show precludes his making clips of the new video available or even revealing too many details about it. He says that it's 4 minutes long and has bits of 18 songs that date as far back as the '50s.
The original EoD video had 30 songs, but this time Laipply secured Internet streaming rights to the music he used–and getting them wasn't easy. Based on suggestions that he solicited on his Evolution of Dance Web site, Laipply had started out with a much longer wish list. "I went through 55 or 60 songs to get to those 18," he says ruefully.
Interestingly, though Laipply didn't secure any rights to use the songs in the original video, no one has ever asked him to withdraw it for copyright reasons. But there will never be an EoD DVD. "I looked into it, but it probably would have cost half a million dollars to produce, just for the rights," he says.
The original EoD, posted on YouTube in April 2006, was created in the fall of 2005 with a camcorder at the back of a hall during Laipply's speech to the National Association of Campus Activities. Because part of its appeal, he believes, was that "it wasn't overproduced," he made the sequel under somewhat similar circumstances–a live performance in front of an audience. The camcorder quality is slightly better, but to retain the amateur look he removed a few frames.
So where did he learn those dance moves, anyway? "I have no idea," he says. "I think the biggest thing about dance is, I've never been too worried about what other people thought. If you don't care, you can just go out and have fun."