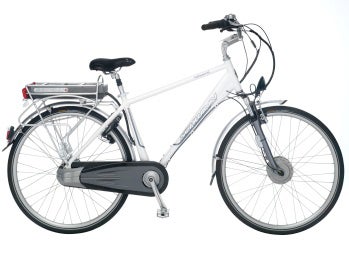 Bicycles at a consumer electronics show? You bet. But Schwinn's Tailwind is no ordinary cycle: It's a hybrid bicycle, which can be ridden the old-fashioned way, powered by its petals, or in motor-assist mode. So if you live in a hill-ridden city like San Francisco, you can get an extra boost getting up those arduous inclines.
This hybrid bike has an impressive battery charge time of 30 minutes–about 1/8 the charge time for standard electric bikes. The Tailwind can go a maximum speed of 15 miles per hour, and the battery runs an average distance of 25 miles; that's a longer life than any electric bicycle on the market.
Schwinn makes some of the most quality frames on the market, and the Tailwind is no exception. The eight-speed bike has a Schwinn-designed 6000 series aluminum alloy frame and an SR Suntour NEX-4610 suspension fork with lock-out. Weighing in at 58 lbs, the Tailwind is relatively light compared to other electric bikes on the market.
The Schwinn Tailwind is currently available for $3,200.
For all the latest CES news, check out our complete coverage of CES 2009.