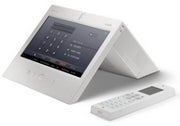 Take what looks like a stylish, but thicker than normal digital photo frame–and bless it with a 7-inch touch screen, built-in Webcam and speakers. Then add Internet access allowing it to handle VoIP voice or video calls, in addtion to text messages. Give it a Web browser, widgets for weather, traffic and more, then let it stream or playback locally stored music, photos, and movies. Oh, and aim to keep it around $300-$400. You'd be asking for a new breed of home communications hub.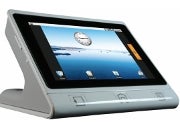 Here at CES, we've seen just that. Two such products appear destined to battle it out sometime in 2009: iRiver's Wave-Home (pictured first) and the Google Android-powered Touch Revolution NIMble Home Phone concept.
The latter is spearheaded by Mark Hamblin, the Product Design Lead of the first iPhone's touchscreen. As you'll see below, Touch Revolution is toying with a range of hardware options. Here's how we understand the two devices compare right now (scroll right down for price and availability details).
Would you buy one?

For complete coverage of the 2009 Consumer Electronics Show, see our CES Topic Center.