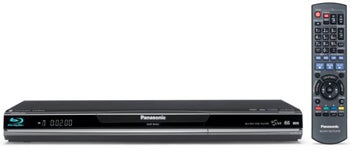 Blu-ray Disc is poised to go mainstream in 2009–just as manufacturers start eliminating some of the more confusing points of differentiation among players, based on the products introduced at the International CES this week.
Fourteen of the 19 standalone Blu-ray Disc players I've counted here at the show–including models from LG, Samsung, Pioneer, and even Memorex– have BD-Live, the official designation of players that support Blu-ray Disc Profile 2.0's ethernet connectivity, storage, and interactive disc abilities. Even Sharp's series of HDTVs with integrated, slot-loading Blu-ray player, including the LC-32BD60U, has a BD Live-capable Blu-ray player. Models that lack BD-Live technology are: two models from Philip (HTS-5100B and BDP-3010), Sharp's LC-BD80U, and Vizio's VBR100, and JVC LT-42B300.
The timing of this migration is reminiscent of the transition DVD players went through. In early models, built-in audio decoders and progressive scan were high-end features that only the more expensive models had. Eventually, as DVD went mainstream, so too did those features. BD-Live support isn't the only feature that goes mainstream: More players offer on-board high-end audio decoders, for Dolby TrueHD and DTS-HD Master Audio.
And in addition to BD-Live support for Internet-connected disc content, more models are serving as a conduit for streaming entertainment from the Internet to your HDTV. LG, Panasonic, and Samsung are among the companies who've announced models with support for such content as Netflix and Pandora (different models support different Internet delivery services).
Now, says Blu-ray Disc Association president Andy Parsons, "We're getting out of the early adopter phase and into the mass market phase. It's been two and half years since we first introduced a Blu-ray Disc player. 2009 is the year we expect to continue significant growth of the format. This will be our big growth year."
Parsons says that in spite of the lingering cloud of the sagging economy, which hangs over every consumer electronics manufacturer. " The fact that the economy was going down the tubes in the past three months, and Blu-ray continued to grow," he notes. "I think it reinforces the idea that consumers enjoy their entertainment. They're always going to need their entertainment."
Another reason Blu-ray Disc is headed squarely for the mainstream is the convergence of Blu-ray Disc players with DVD players. With the average selling price of a Blu-ray Disc player continuing to fall–to $200 and below–the step-up cost of going Blu is less of a deterrence.