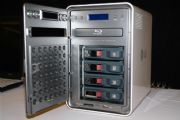 LG Electronics may have found the ultimate tech-combo product. The N4B1, shown here at CES, is a network attached storage (NAS) device with a built-in Blu-ray writer for backups.
The LG N4B1 isn't going to get any attention because of its name. But it sure stands out for what it does. LG has put together a box that includes four hot-swappable drive bays for 4TB of capacity (or more if you use 1.5TB hard drives inside). And it adds in a Blu-ray Disc writer so you can transfer content from the NAS to Blu-ray, an integrated and useful approach to data archiving and redundancy.
The box beige box with silver accents features a slick, rounded industrial design. Open the front silver grille, and you have easy access to the drive bays. At front you'll find a memory card slot (for Memory Stick, Secure Digital, and xD Picture Card), and a USB port, for backing up items from USB to the NAS. Two additional ports are located on the back of the unit.
The N4B1 has built-in software that tracks what data you've transferred to device, so it only transfers what's new. It also has a version management system. And when you've transferred content to disc, it maintains a library so you can see what's on what disc.
The N4B1 supports remote access; comes set for RAID 5 by default, but has options for RAID 0, 1, 1+0, JBOD; has an e-SATA port at back, and packs gigabit ethernet. It works across Windows, Mac, and Linux systems.