With its announcements at this year's Consumer Electronics Show in Las Vegas, Olympus showed that it fully intends to play both sides of the fence: the company revealed two extra-rugged additions to its waterproof/freeze-proof/drop-proof line, as well as three models that are better fits for the fashion-minded.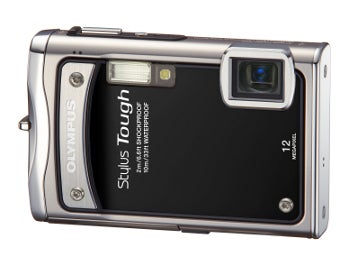 Of the rugged cameras, the 12-megapixel Olympus Stylus Tough-8000 ($400, available in black and silver starting in February) really is built like a tank. And it needs to be, considering you can control it by slapping it around: Designed to be used with mittens, the camera features Olympus's Tap Control system, which lets you smack the top and sides of the camera to turn on the flash and adjust its settings.
For underwater and low-light shots, the model also has an LED flashlight on the front.
The Stylus Tough-8000 is rated to be "crushproof" for up to 220 pounds of pressure, 33 feet of water, and a 6.6-foot drop. The standard specs are equally impressive, with a 28mm wide-angle, 3.6X optical zoom lens; an Intelligent Auto Mode that optimizes settings based on the shooting environment; in-camera panorama stitching; a 2.7-inch-diagonal LCD; dual optical/digital image stabilization; and face detection.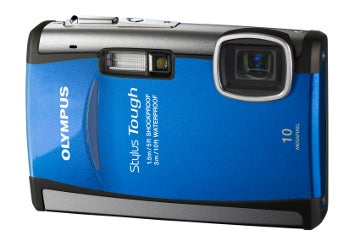 Also new is the Olympus Stylus Tough-6000 ($300, available in white, yellow, blue, and orange starting in January), which shares many of the same specs but isn't quite as rugged: it's not "crushproof," it's drop-proof to 5 feet instead of 6.6 feet, and it's waterproof up to 10 feet. The Tough-6000 also maxes out at a 10-megapixel resolution, but it has Tap Control and the same in-camera features as the Tough-8000.
If fashion is more your thing, the new Olympus FE models–all available for less than $200–may be more up your alley. The Olympus FE-5010 ($190, to be available this month), the Olympus FE-3000 ($140, also this month), and the Olympus FE-3010 ($150, available in March) all offer an Intelligent Auto mode, 2.7-inch-diagonal LCDs, and snazzy, design-conscious frames.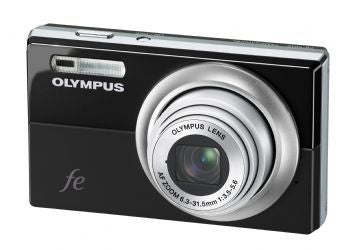 The FE-5010 (above) serves up a 12-megapixel sensor, a 5X optical zoom lens (36mm to 180mm), and dual mechanical/digital image stabilization.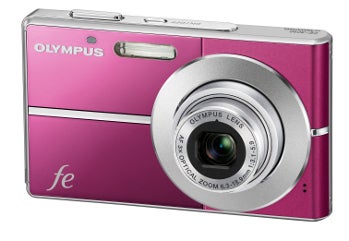 The 12-megapixel FE-3010 (above) and 10-megapixel FE-3000 (below) have only digital image stabilization, and their optical zoom ranges max out at 3X, but many of the other specs are the same. The FE-3010 is a slightly slimmer version of the FE-3000, with a 0.7-inch-thick frame compared with the 0.77-inch-thick FE-3000.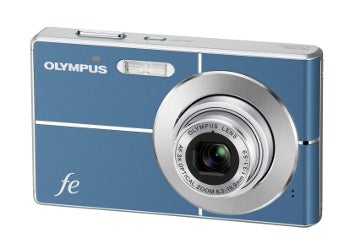 For more product news, read our complete coverage of CES 2009.
Olympus FE-3000 Compact Camera
Olympus FE-3010 Compact Camera
Olympus FE-5010 Compact Camera