Everybody sends you PDF forms to fill out and return. The trouble is, changing and saving a PDF usually takes an expensive program like Adobe Acrobat or a third-party PDF creator (such as Foxit PDF Editor). That leaves you with no way to return a filled-out PDF form except printing it out and either faxing it or sending it via snail mail. These are obviously not the optimal ways to deal with electronic documents. If you're looking for something cheaper than the aforementioned software and faster than the pony express, you should check out the $30 CutePDF Form Filler. Neither a PDF creator nor a full-blown editor, it still allows you to save or e-mail the filled-in version of a PDF form.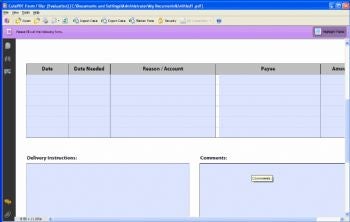 My hands-on with CutePDF Form Filler proved that it can do the job. I filled out, saved, then e-mailed several forms I had created using Acrobat with nary a glitch. You can even send the form data by itself, though I didn't find a real use for that feature.
When you purchase through links in our articles, we may earn a small commission. This doesn't affect our editorial independence.