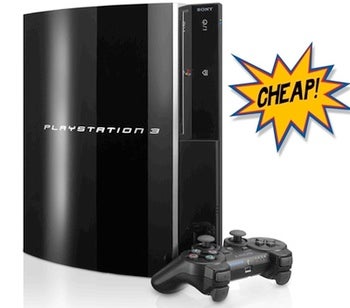 Would you buy an 80GB PS3 for just $300? Would a $100 price drop have swayed you to nab a PS3 in lieu of an Xbox 360 or Wii over the holidays? Does the prospect of $300 Blu-ray playback make you swoon even a little?
Wedbush Morgan's Michael Pachter gazes into his crystal ball and says a $100 drop will happen this April, a move that will allow sales of the device to "once again begin to grow."
What's more, he think Microsoft could drop the Xbox 360 Pro's price from $300 to $250 around E3 2009 this summer, helping stave off market contraction as the overall economy struggles to recover (Pachter thinks concerns about waning consumer demand are "overblown").
Don't look for official confirmation on any of this, of course. Confirming price drops four to six months out would be intermediary sales suicide.
That said, if Sony does drop the PS3's pricing to $300 and its notable 2009 exclusives, e.g. Killzone 2, Heavy Rain, MAG, EyePet, Nobi Nobi Boy, God of War 3, and the one I'm most excited about, Uncharted 2, turn out to be as good as we're hoping, we could be having a very different discussion about console demographics this time next year.