Leaked photos of HTC's 2009 product roadmap appeared yesterday on the Web. And out of all of them, one is speculated to be the next Google Android phone from T-Mobile. But what's interesting about the coming handheld is that it has no physical keyboard, unlike the current T-Mobile G1.
Plenty of mobile phones and devices featuring Google's mobile OS – Android – are expected to launch this year from various manufacturers such as Motorola, Sony-Ericsson, Toshiba and Asus. But HTC, which manufactured the first Google phone as well, seems to have a brand new Android phone prepped for early this year.
The HTC Sapphire (pictured above, left) is said to be the next Google-powered phone coming to the US after the already ubiquitous T-Mobile G1. The phone features the same design cues and trackball we all know from the G1, but the device seems to lack a physical keyboard. Given this, it is possible that the G2 will run a yet unreleased version of Android OS, that will have support for an onscreen virtual keyboard (something that is missing from the current release).
Other clues that indicate the HTC Sapphire is indeed the next T-Mobile Google phone are the 'myFaves' button on the device (which most T-Mobile devices are known to have) and also the 'TMO' and '2.0' codes on the left side of the image (TMO is the codename for T-Mobile).
Of course, other details regarding the upcoming device such as price and release date are yet unknown. However, some blogs speculate that the T-Mobile G2 will be launched sometime late this month (Jan 26 to be more exact).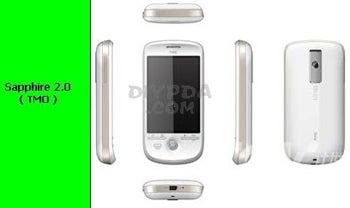 Well, if this is actually the next Android phone from HTC, I must say that I'm not really that impressed. The phone still seems chunky and doesn't bring anything new in terms of design. Hopefully, the G2 will make up for the flaws of its older brother, the G1, like the lack of a dedicated standard audio jack. But so far, we have much more exciting phones to expect this spring, namely the Palm Pre.