An advanced Google search technique can look within a single site, which is often a major help versus an internal search engine. (Recap: type your query, and then type "site:[domain]" such as "laptops site:pcworld.com" to look only at PC World.) But sometimes, I want the results from a site's own engine without having to click over to that site first. For example, a Wikipedia query that perfectly matches an entry will automatically load that page; Google won't. Here's how to customize the search bar in Firefox and Internet Explorer, adding direct searches on a range of sites.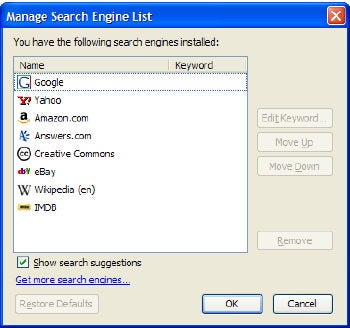 In Firefox, click the pull-down menu in the upper-right area, showing the logo of the current search engine. Choose Manage Search Engines. Click the following link, Get more search engines. Scroll through or search for your favorite business, websites, or other regular destinations. I like adding IMDB for quick movie and TV results. Click Add to Firefox, and click Add. Pick between the engines through the original pull-down menu, and remove unwanted tools with Manage Search Engines.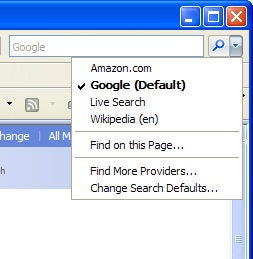 In Internet Explorer, click the pull-down menu in the upper-right area, next to the magnifying glass. Pick Find More Providers. Click the name of a tool, and pick Add Provider. I like to add Amazon and Google. For the latter, I click the box, Make this my default search provider. Swap between engines with the original pull-down menu.