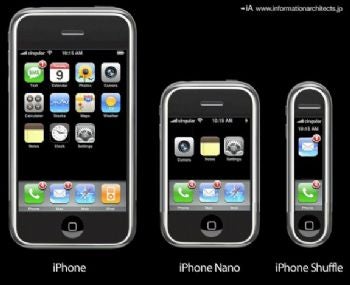 More sketchy iPhone rumors have caught fire in the blogosphere. This time the origins come from far away via DigiTimes, the Chinese language Economic Daily News. It's reporting Taiwan Semiconductor Manufacturing Company and United Microelectronics Corporation might end up with chip orders for a "low-cost entry-level iPhone nano." These chip orders reportedly might be placed by March. There was nothing else mentioned beyond that, including who actually placed the orders.
Rumors of iPhone Nanos have come and gone of late. Some fake iPhone Nanos even recently surfaced, perhaps enticing the gullible to put down cash. PC World even added the iPhone Nano to a list of products it wished were announced at Macworld Expo (see complete list).
iPhone Nano Rumors – Yawn
The talk of iPhone nanos is nothing new, dating back into at least mid-2007. Let's consider this for a moment though – what would Apple have to gain by developing and releasing an iPhone nano?
The iPhone currently on the market is doing extremely well – it would be hard to see Apple wanting to undercut its growth this early by releasing a smaller version. Also, what would an iPhone nano really look like? A scaled down version of the current iPhone? Something like the current nano, which would make it feel too small to be a phone?
I think, iPhone nano hopers, this is all but another dashed rumor. I just don't see any reason why Apple would need a gadget like this at this time. Next Mac product rumor please.