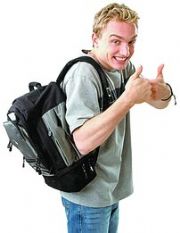 Okay, we're a bit premature here. But that might happen if one analyst's prognostications are true. According to an Electronista report, Shaw Wu of Kaufman Bros. is predicting that Dell is getting closer to launching its first smart phone, although no date has been set for the roll out. While Dell has played down the rumors, industry watchers have noted that the PC maker recently hired a former Motorola mobile phone exec to helm its global consumer products group.
Rumors of Dell's smart phone intentions have been swirling for many months, in fact. Reports from early last year had Dell working with Foxconn Group to develop handsets based on the Windows Mobile OS, and Dell vowed to roll out an iPod competitor. However, those projects may have hit the pause button, as Dell announced last fall that it wouldn't have an MP3 player ready for the holiday season.
Given the stunning success of the Apple's iPhone, the positive buzz generated by Palm's Pre and its clever webOS at last week's Consumer Electronics Show, and a growing number of Google Android devices, Dell knows it had better act-and fast.
But whose mobile OS should Dell use? Apple and RIM have designed their own in-house software-and done an excellent job of it-but building operating systems isn't exactly Dell's forte. Windows Mobile is the odds-on favorite, or Dell may have to go out and purchase a software maker. Whatever it does, Dell will have to launch one impressive handset to stand out in a very competitive market. Whether it can remains to be seen.