New Web browsers for the iPhone started appearing in Apple's App Store, contrary to the company's previous policy of denying applications that duplicate functionality of its own software. Four new Web browser implementations became available over the last day in the App store. (Check out our hands-on assessment here). Still, other popular browsers are not expected to follow suit.
Although Apple didn't officially acknowledge dropping its functionality duplication policy, four new Web browsers for the iPhone became available yesterday, bringing new features such as tabs and private browsing. However, the new browsers are just different user interface implementations of the built-in iPhone rendering engine – WebKit. So basically, the code in the new apps rendering the web pages is still Apple's.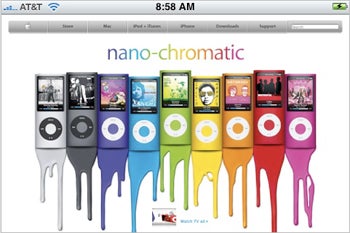 The new so called Web browsers range in price from free to $1.99 and bring some features missing from Apple's Safari App. Edge browser (pictured above), a free app, removes Safari's address and navigation bars, leaving more screen real estate for the page you are browsing. Another browser, WebMate:Tabbed Browser ($0.99), as the name suggests, brings tabbed browsing to the iPhone by queuing up all the links you click on and then displaying them in an orderly fashion. The other two browsers, Incognito and Shaking Web (both $1.99), offer untraceable browsing and respectively compensate the small hand shaking for easier reading with the help of a sophisticated algorithm.
Apple has been criticized before for group delays of certain application categories, such as the fart generators, and it seems that even the browsers in discussion have been submitted to the App Store from as early as October last year. Regardless, the new apps are a step ahead for Apple in becoming a more open platform for web browser developers, even though we shouldn't expect other big players such as Firefox or Opera being allowed to release browsers featuring their own rendering engines for the iPhone.
16GB iPhone 3G
Price When Reviewed:
$239.99
Read our full
16GB iPhone 3G review