Here's a hands-on look at the new Web browsers available today for the iPhone and the iPod Touch.
The Edge Browser (free)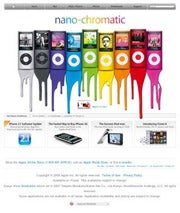 The main feature of The Edge Browser is that it removes the clutter from an ordinary Safari Web page to present sites in full-screen glory. Besides the reception, time, and battery bar at the top of your iPhone's screen, you should see nothing but the page.
Problem is, all I saw was nothing. I loaded the browser and as I was trying to figure out how you're supposed to leave the Apple Store page, it crashed. When I rebooted the app, I got a blank white screen. So the edge of my browser was taken off … all the way off.
Incognito ($1.99)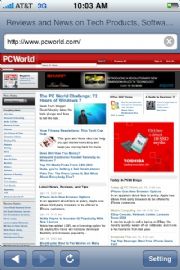 Those of you who are fearful of getting busted for checking out less-than-appropriate sites on your iPhone will be interested in Incognito.
This browser leaves no traces behind from your wanderings on the Web. Once you close the app, so also disappears your entire browsing history, or even that you were online at all.
Incognito is useful for those with a company iPhone or the generally paranoid.
Shaking Web ($1.99)
Using the iPhone accelerometer, Shaking Web compensates for small hand and body movements by jiggling the browser's screen. It functions by sensing movement and applying small but opposite movement to the viewable content.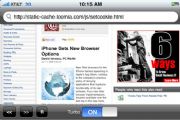 I paced the office hallways looking somewhat like a moron, trying to read articles on the Web. It was still difficult and annoying. I had "turbo" turned on, which is not the default. Turbo applies forces in both vertical and horizontal movements, whereas the regular viewing mode only applies to vertical movements.
One of the bigger problems with Shaking Web is that it's not completed. As of this writing, pop-up windows are not supported and sites requiring new windows to open links will not work. That's a pretty big chunk of the Internet, so unless you're hanging out on stolid sites, Shaking Web is not for you.
WebMate (99 cents)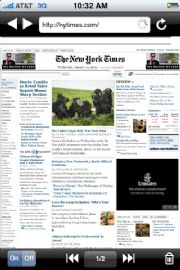 Offering the closest thing to tabbed browsing for the iPhone, WebMate is a useful application for those who like to collect a series of Websites for reading later. The idea behind WebMate is excellent, and I hope it spurs Apple to upgrade Safari. But WebMate on its own has one flaw: when you have two separate pages open, WebMate does not save the other tabs in their full form, so whenever you switch back and forth, the page has to load from the beginning all over again. This takes time that regular tabbed browsing does not.
It's important to remember that these new browsers are all based on the Safari developer kit, and aren't actual differentiations from Safari but, instead, separate add-ons. I'd keep Incognito and WebMate handy and hope for continuous upgrades. With the right additions, both could prove to be better than the included Safari browser.
16GB iPhone 3G
Read our full
Review 16GB iPhone 3G