When I was a kid, I used to wonder if everyone saw the world in the same way. What if what I called "yellow" looked like green to someone else? Wouldn't it be interesting if everyone's eyes interpreted color differently? Incredibly, that's not too far off the mark in the world of digital photography, since computer displays are not all perfectly calibrated to the same specifications (see "How to Buy a Monitor" for tips on monitor specs).
Every monitor has its own brightness, contrast, and color levels, and that means a digital photo will look different on every computer you show it on. Imagine working to remove a green cast from your photos only to discover that the green was being generated by your display–after editing, they'll look terrible on any other computer. I talked a little about this phenomenon in "Calibrate Your Monitor." This week, let's take another look at improving your monitor's output.
No-Cost Calibration
Adjusting the colors and brightness of your computer display is, in principle, similar to fine-tuning a television. Think about it: When you bring home a new TV, most of the family probably thinks it looks fine, and for the most part, it is. The colors are all about right, and the picture is perfectly watchable. But someone in the house probably isn't happy with the picture. The colors are "too blue," or the skin tones all look "too red." Maybe the display is too bright, or somewhat oversaturated. You can fiddle with the controls by eye, or get a calibration DVD for more scientific results.
Adjusting your PC monitor is much the same. There are many Web sites offering calibration aids and sample photos that can be useful if you want to tweak your display by hand. You'll find an easy-to-use calibration tool at Photofriday.com, for example. A more detailed, step-by-step monitor calibration procedure is available in the form of a Corel Paint Shop Pro help article. And Norman Koren has written an in-depth article that includes links to colorful test images. If you want to improve your display on the cheap, these are great places to start.
Calibration Gadgets
Manual calibration is better than nothing, but you'll get better results if you use a colorimeter–a device that automatically calibrates the brightness and color of your display to a reference standard. Any monitor so calibrated should represent a digital image in the same way, giving you confidence that the edits you're making to your photos are accurate. These gadgets all work more or less the same way: You affix it to the monitor and then run a program that adjusts your display. The process takes just a few minutes, and for best results, you should repeat the process every few weeks (since your monitor's settings will tend to drift).
There are all sorts of colorimeter products available. Among the most popular is the family of Spyders from Datacolor. Though they range in price up to $250, you can get superb results with even the $96 Spyder2express.
I've been using the Pantone Huey (about $70) for a few months, and it, too is an inexpensive but effective calibration gadget. The Huey is different than most since you leave it on your desk when it's not I use, where it constantly optimizes your monitor's settings based on the ambient light level in the room. Read "Monitor Calibration for the Masses" for a review.
Hot Pic of the Week
Get published, get famous! Each week, we select our favorite reader-submitted photo based on creativity, originality, and technique.
Here's how to enter: Send us your photograph in JPEG format, at a resolution no higher than 640 by 480 pixels. Entries at higher resolutions will be immediately disqualified. If necessary, use an image editing program to reduce the file size of your image before e-mailing it to us. Include the title of your photo along with a short description and how you photographed it. Don't forget to send your name, e-mail address, and postal address. Before entering, please read the full description of the contest rules and regulations.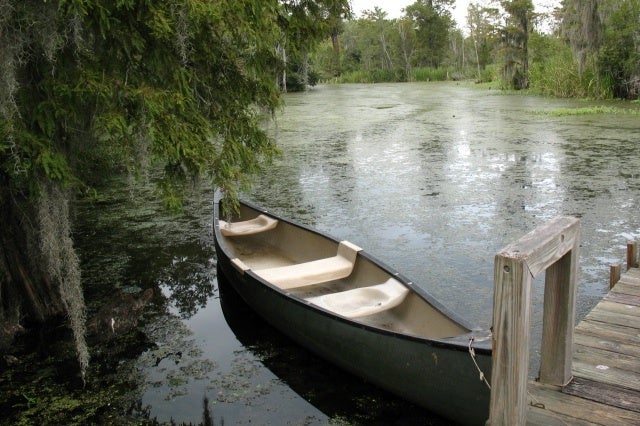 This week's Hot Pic: "Canoe," by Jean Ehler, Saint Matthew, South Carolina
Jean took this photo of a canoe at Old Santee Canal State Park in Monks Corner, South Carolina, using a Canon PowerShot A630.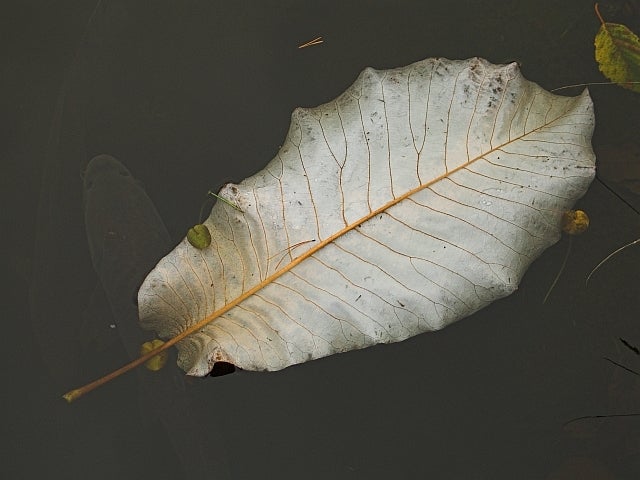 This Week's Runner-Up: "Leaf in Pond" by Paul Bild, Vancouver, BC.
Paul says that he shot this photo with a Canon G6. "The leaf was floating on a pond and I noticed that it had lost all its chlorophyll. The only editing I did was to remove some noise with the median filter in IrfanView."
See all the Hot Pic of the Week photos online.
Have a digital photo question? Send me your comments, questions, and suggestions about the newsletter itself. And be sure to sign up to have the Digital Focus Newsletter e-mailed to you each week.