I think I'm safe in saying that iTunes is the single slowest application on my PC. It not only takes a week or two just to start up, but also seems to pause indefinitely on simple tasks like switching between different sections of the iTunes Store.
Fortunately, there are a few ways to goose iTunes, to make it a little less pokey than usual. I'm not promising a dramatic speed increase, just somewhat more efficient operation.
First, turn off Genius by clicking Store, Turn Off Genius. (Note that doing so will delete all collected Genius data.) It's a neat feature, but I've noticed that it seems awfully "busy" at times. Anything that's demanding iTunes' attention is also hurting its performance. I never thought it was that smart, anyway.
Second, click Edit, Preferences, Sharing, and then disable Look for shared libraries and Share my library on the local network. Whenever there's ongoing network activity, you can count on a performance hit. Of course, if you are sharing your iTunes library, skip this step.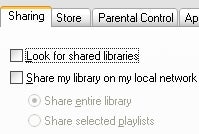 Finally, switch over to the Apple TV tab and disable Look for Apple TVs (unless you have one, of course). It's another case of superfluous network activity that can only hurt performance.
Have you found any other ways to give iTunes a kick in the pants? Or have you kicked it to the curb? As an iPhone user I'm kinda stuck with it, so I sure wish Apple would do some fine-tuning. Sorry, but I ain't gonna buy a Mac just to get a better-optimized iTunes.