At a Glance
Expert's Rating
Pros
Creates radically smaller file sizes
Free
Cons
Can be slow and is a CPU hog
Limited screen view options
Our Verdict
It's not as robust as Microsoft Office, but you can't beat the price.
Once upon a time, in the deep, dark recesses of computer history past, Lotus Symphony battled Microsoft Office to become the dominant Office suite. Today, of course, Microsoft Office is dominant, while Lotus Symphony has become largely a forgotten footnote to history. And that's too bad, because IBM Lotus Symphony (as it's now called) is quite a powerful office suite–and amazingly enough, anyone can download and use it for free.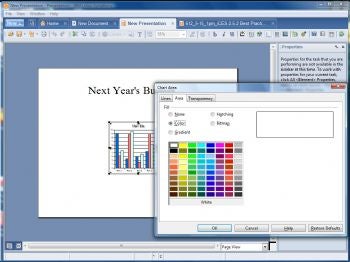 You might be surprised at what you find when you install IBM Lotus Symphony: a slick, sophisticated suite with all the bells and whistles, including a very elegant interface. All documents open in their own tabs, which means you can have word processing documents, presentations, and spreadsheets all open in the same program at the same time in the same interface–just in different tabs. IBM Lotus Symphony creates and opens documents in the Open Document Format standard, as well as Microsoft Office file formats. It doesn't use the newest Office formats, but few people do, so it most likely won't be a problem for you. So if you're looking for an excellent, free office suite, IBM Lotus Symphony a great bet.