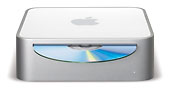 The Mac Mini hasn't been updated in a long time, and many wondered if that meant the death of the platform. But according to "confirmed" rumors circulating the Web today, the Mac Mini is set to receive the awe-inspiring Nvidia Ion as a graphics processor and a release date as early as March 2009.
Writing for Tom's Hardware , Tuan Nguyen claims that an "Nvidia partner" has confirmed that Apple has received the Nvidia Ion even though many partners are still fiddling with blueprints. Based on this information, and chatter from the source, Nguyen says the next line of Mac Mini's will be built with powerful graphics processing in mind.
The Ion uses a dual-core 1.6 GHz Atom 330 processor and the same GeForce 9400M integrated graphics found in the current MacBooks and MacBook Pros.
Other sources are a little more skeptical when it comes to the announcement. Apple Insider says "earlier reports from trusted sources seem to conflict with this notion." However, the site also speculates that the Ion might make a surprise appearance in Apple TV. Earlier speculation was that the announcement would come at Macworld Expo.
Apple, of course, hasn't said a word, and it's likely we won't know for certain what the company's plans for the Mac Mini are until much later. But "much later" could mean March, so keep your eyes peeled to PC World for further updates.