Jalbum is an easy-to-use freebie which can take folders of images on your hard disk and turn them into a sophisticated, attractive, online gallery with just a few mouse clicks. If you sign up at the vendor's site, you even get 30 megabytes of space free, with an easy to remember URL (yourname.jalbum.net). Pretty cool.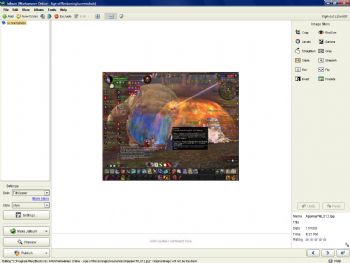 Basically, you run the Java-based software and find some local images. You can then choose from a variety of "skins" to use to set up your gallery, as well as performing some very basic image manipulation (blur, flip, and so on). Once you're happy with the selected images and the look of the gallery, you push a button, and the entire thing is uploaded to the JAlbum servers, where you can then share them with your friends, comment on other people's pictures, and so on. It's a lot like Flickr, but, in my opinion, a bit cooler–on the other hand, Flickr requires no local software. And Jalbum has a frog. This might be important.
Issues? A few. I could not find an easy way to view images full-size in the gallery mode. When you change the skin, you must re-make the album (locally) before you can preview it, and this is not intuitive. However, the ease with which you can create a professional-looking online gallery (you will need to pay if you want more than 30 megs of space, though) makes these quirks quite forgivable.