Just as duplicate songs somehow find their way into music libraries, so do duplicate photos seem to crop up in photo collections. I think the most common culprit is human error, like when you forgetfully download the same batch of photos from your camera.
Whatever the cause, duplicates sure are a nuisance. Fortunately, there's a great freeware utility that can find and remove them for you: VisiPics.
Start by selecting one or more drives and/or folders for VisiPics to scan. Then, set the Filter slider to Strict, Basic, Loose, or somewhere in between. That determines how hard the program will look for differences in your photos.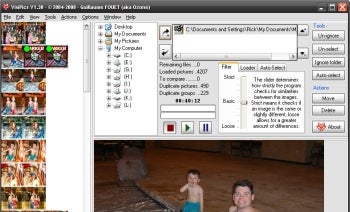 You see, VisiPics doesn't just look for duplicate filenames–it actually examines the contents of each photo and looks for similarities. The results are presented in a column on the left side of the VisiPics window; just mouse over any given photo and its duplicate(s) to see a preview. To mark a duplicate for deletion, click it. (The program can also move duplicates to a separate folder in case you'd rather not delete them.)
I turned VisiPics loose on my My Pictures folder, which contains over four thousand photos. It took about 40 minutes to complete its scan, but it did an amazing job. I definitely recommend this handy app for anyone with a large photo library. I also recommend sending the author a donation if you find VisiPics useful.