So a fat pig jumps into my cab, and then he busts out into song while I carve through city streets. Nope, this isn't some deleted scene from the end of Slumdog Millionaire. I'm playing Karma Cab–a goofball mod for Half-Life 2.
What the heck is a mod? User-created game content–it's been around since long before YouTube ever made do-it-yourself entertainment a household concept. Old-school gaming nerds crafted game levels, weapons, character models–heck, entire games have been built using the guts of game engines for ages. (In fact, I highly recommend that you check out Mod DB for a huge selection of game mods.) That means lots of extra, free games derived from what you've already bought. The mod scene also happens to be a breeding ground for tomorrow's great game designers. To wit, the 2009 Independent Games Festival recently announced the ten student-showcase winners, some of which are based on mods. However, I wanted to showcase a couple of my own picks. I've found some really odd Half-Life 2 mods that, coincidentally, all came from the same academic program: the National Academy of Digital, Interactive Entertainment in Denmark (DADIU, in their native tongue).
Want to play 'em? All you need is Half-Life 2 with Steam, plus the FRAPS video codec to see some of the intro videos (but I don't believe FRAPS is required). Okay, back to my cab ride…and the rest of the weirdness.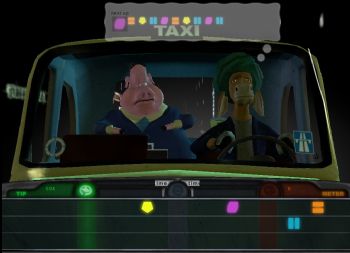 The Game: Karma Cab The Gist: It's a Bollywood cab ride turned into a video game. In other words, it's a potential tandoori plate of awesome. The passenger makes comments in the back seat in a singsong fashion. He might say something as banal as "You look familiar…" or perhaps a slightly snarkier remark like "What's that smell?" As you're matching up scrolling shapes along the bottom, you're also deciding how you'll react: Take the comments in stride or be a complete jerk. I'll give you one guess what I did. (Download Karma Cab)
While I think it's really smart that you never get to see the road as you drive, it might be a little cooler to see the cabbie careening down city streets. As for the music…well, I'm no big follower of the Indian movie scene, but the music here could be a lot catchier. Hey, no slight intended to the crew: You still have a fun game on your hands here–it could use just a little more spice. Eh? Get it? Oh, never mind.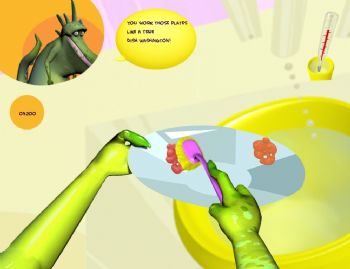 The Game: Dish Washington The Gist: A game where you do the dishes? Yeah, I know, sounds about as much fun as…well…doing the dishes, but Dish Washington was among the top nodworthy games for the 2009 IGF student projects. You're a funky, dishwashing dinosaur-thing. Your job is to grab crud from the top of the stack, hold it over the sink, and scrub away grime to the rhythm. Rubbing out grease to the music keeps the water hot, and you up to your green elbows in Palmolive. So I guess there's something good to come out of this, right? I mean, if I play this long enough, I'll forget about the Jenga-fied pile of pint glasses building up in my sink. Highly recommended for neat freaks who need to feel the beat. (Download Dish Washington)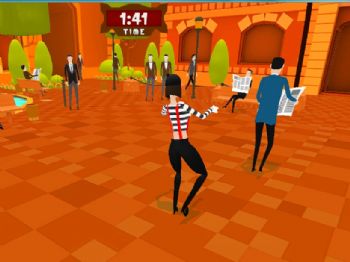 The Game: It's Mime Time! The Gist: Mimes, probably some of the most hated people on the planet. Now, with Mime Time, you're a member of their silent gang. What could've amounted to a really bad joke is actually a clever little game. The deal here is that you're trying to earn some bucks, impressing Parisians on their lunch break. You have 3 minutes to rack up cash by pulling off trademark moves. To do that, you navigate through an invisible maze and complete minigame challenges. (You know that whole walking-into-walls gag that mimes do? It's a big part in the game.) Me? I've always been a big fan of the ol' "trying to lift the invisible weight" gag. (Download It's Mimetime!)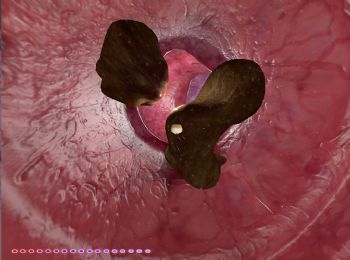 The Game: A Corny Voyage The Gist: Technically, you could call this a racing game. And, if you really want to spin it a certain way, it's also a quick lesson in human anatomy. Kind of. You're an undigested corn kernel trying to get out of a human body intact and as quickly as possible. As you might've guessed, a few–how shall I put this–obstacles get in your way. Hurtling through the intestines, you pick up speed, and the roadblocks are many. You can survive a couple close brushes; hit the sides one time too many, however, and you're in it, deep. Yeah, classy. You know what, though, if you convince yourself that you're flying through a cave and that…stuff…is…umm…space sludge, this would still be just a plain ol' fun game. But with big, brown barriers. (Download A Corny Voyage)
(As a quick aside, last year's IGF awards had another one of the DADIU's games on display: Flipside. I strongly recommend you check that one out as well.)
Something Is Rockin' in Denmark
So what is it about Denmark students and their oddly creative collection of games? Is it something in the water? Kristine Ploug, a spokesperson for the DADIU, explains that the academic program selects only about 70 students a year coming from universities and art schools studying all aspects of computer game production. It's basically a supplement to their ongoing training from other universities.
Since its inception in 2005, the program has provided hardware, software, and Valve's Source engine to students. Then the class splits into five or six teams. Each team consists of one game designer, one project manager, one game director (in the sense of a movie director), one audio designer, a number of visual designers, two modelers, two animators, and two or three programmers. Basically the groups form tiny game studios–a little more effective than your average internship–with extremely tiny deadlines. A game must be done within one month. No pressure or anything.
And that's just one school, with a couple of promising productions. In the coming weeks, as the final IGF awards draw closer, I'm going to see what other original games I can dig up for you from places such as SMU's Guildhall, DigiPen, and the countless other groups on the academic scene. Until next time…
Casual Friday columnist and PC World Senior Writer Darren Gladstone geeks out over gadgets, games, and odd uses for humdrum tech. In other words, he's a nerd–and he's okay with that. Need even more nerdity? Follow gizmogladstone on Twitter for more time-wasting tips.