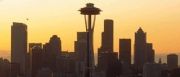 For the best broadband, head northwest. That's the word from Forbes, which has chosen Seattle as the nation's most-wired city. The publication's annual list of top tech towns picks the 30 best U.S. cities for broadband access. The Emerald City earned high marks for its high-speed Internet access and plentiful Wi-Fi hot spots. The fact that it's home base for tech giants such as Amazon and Microsoft didn't hurt either.
This year's top five include Atlanta (last year's winner) at No. 2, followed by Washington, D.C., Orlando, and Boston, respectively. Forbes also named D.C. the "wired city to watch," thanks primarily to the arrival of BlackBerry-loving President Obama.
Despite its reputation as a hotbed of tech, California didn't land a single city in the top 10. San Francisco came in at No. 11, a significant fall from last year's No. 4 ranking. While the City by the Bay is tops in broadband adoption — a good indication of a Net-savvy citizenry — it has relatively few Wi-Fi hotspots or companies providing high-speed Internet access, Forbes reports. San Diego, Los Angeles, and Sacramento were ranked No. 12, 13, and 19, respectively.
Here's the complete list:
1) Seattle
2) Atlanta
3) Washington, D.C.
4) Orlando
5) Boston
6) Miami
7) Minneapolis
8) Denver
9) New York
10) Baltimore
11) San Francisco
12) San Diego
13) Los Angeles
14) Portland, OR
15) Raleigh
16) Tampa
17) Phoenix
18) New Orleans
19) Sacramento
20) Charlotte
21) Chicago
22) Nashville
23) Milwaukee
24) Pittsburgh
25) Honolulu
26) Cleveland
27) Philadelphia
28) Cincinnati
29) Columbus
30) Austin
Note: When you purchase something after clicking links in our articles, we may earn a small commission. Read our affiliate link policy for more details.