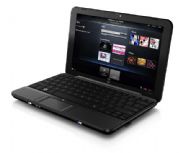 We've all heard about the netbook phenomenon. They're small, low on power, ultra-cheap, super portable and the fastest growing segment of the computer industry. But some believe netbooks also have the power to dramatically reshape the tech sector, for better or worse. Here's what's going on.
Microsoft and Windows
Last week, Microsoft released a statement after reporting a modest increase in revenue. The company said the popularity of netbooks caused an 8 percent decline in its software business. Basically, more and more people when picking up a new computer are buying less-expensive netbooks instead of shelling out the bucks for fully-loaded Windows Vista laptops.
. Sales dropped significantly for standard computers in the latter part of 2008 for Dell and other desktop makers. Even Apple — a company that staunchly refuses to enter the netbook market — has seen its desktop sales fall. Hardware makers may have an easier time than software producers, though, as they can switch to producing more of the kinds of computers or gadgets that people want. Apple is a good example with its strong iPod and iPhone sales. Dell rejiggered its hardware lineup to include several netbooks. However, to keep their sales growing, hardware producers will have to sell more to counterbalance the netbook's lower price.
OS Competition
On the software side, netbooks wouldn't be such a threat to Microsoft except for the fact that the Linux operating system, and not Windows, powers many netbooks. Microsoft is already trying to counter this trend by moving into the netbook market with Windows XP. Its new operating system, Windows 7, is also being designed to run on any computing device including netbooks. However, there are reports that Microsoft may run into stiffer competition than the open source Linux. It's widely speculated that Google may be getting into the netbook OS game, and let's not forget "Cloud," an operating system from Good OS made for the netbook revolution.
Netbook or Laptop: A False Choice
If you plan to pick up a mini-notebook in the next few months keep in mind that netbooks are not laptops. PC World's WorldBench rating application puts the quality of netbooks around 35 on a scale of 1 to 100 in comparison to laptops. The smaller size and cheaper price may make them more attractive, but they are not ideal for full-time use. The smaller keyboard makes them difficult to type on, the screen is incredibly small, and they cannot run full-powered office software or graphics-heavy programs.
Netbooks Keep Growing
Despite the netbooks' shortcomings, the market for these devices keeps growing and is expected to get even larger in 2009 as the economy remains in its current rut. The cheaper price tag on netbooks means less revenue will fill corporate coffers, so giants like Microsoft — a company that has already announced one round of layoffs — will have to do more with less just to stay alive.
If you believe in the power of creative destruction, this may mean innovation will win out as companies reshape, introduce game-changing products, or simply dissolve. Then again, we may see an implosion of the tech sector as we did in the 1990s. Whatever the outcome, a sagging economy combined with the advent of super-cheap computing devices is causing some pain to the tech companies. Whether you, the consumer, will have more or fewer product choices when the dust settles remains to be seen.