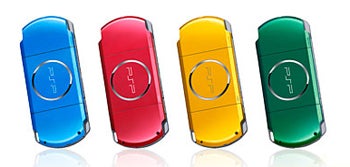 What's the best way to recover after a $2.9 billion annual operating loss? Sony says: introduce new PSP colors!
The PSP-3000 is receiving a carnival makeover in Japan with the introduction of four new retina-melting colors: Radiant Red, Vibrant Blue, Bright Yellow and Spirited Green. The PSP hardware specs remain the same, and the ¥24,800 ($279) bundle includes a 4GB MemoryStick, a pouch and a hand strap.
These new colors hit the Tokyo streets in March. No word yet on whether these colors will make it over to North America, or if we'll be left out of the party.