The gales of the Blackberry Storm just weren't strong enough to wash away Apple's iPhone success. Between its average reviews and customer complaints over bugs and OS stability, the Storm seems to have severely underperformed in customer satisfaction. And now, the latest figures from Blackberry maker Research In Motion (RIM) show that it has underperformed in sales, too.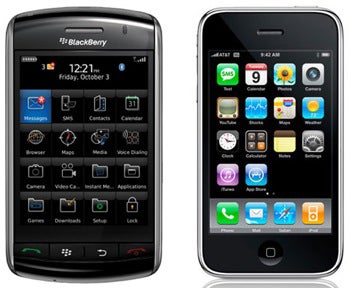 Only half million Blackberry Storm devices were sold in the U.S. since November, according to the Wall Street Journal . During the same holiday period, Apple sold more than two million iPhones, totaling over a quarter of the North American smartphone market. RIM's shares have also dropped more than 5 percent since news broke that Storm users are still unhappy with their experience on the device.
Speculation from various sources blames Blackberry Storm's woes on the phone's software glitches, crashes, and bugs. Many of these these problems occurred because of Research In Motion's eagerness to make the Storm available in time for the 2008 holiday season, starting with Black Friday, the biggest shopping day of the year.
RIM tried to address users' complaints and released a software fix for the Blackberry Storm in December. Despite that fix, many users remained unsatisfied with the device's basic functionality, such as the lack of a conventional QWERTY keyboard when the phone is used in portrait mode-a feature that's available on the iPhone and other touch-screen smart phones. RIM officials acknowledged Storm's further software issues and promised another update that will solve many of the phone's problems.
But the Blackberry Storm will soon face even more competition. A new smartphone battle is coming up this year with the imminent launch of Palm's much-hyped Pre. Nokia is also joining the game with its N97, so RIM should address users' concern quickly.