Last month I wrote about GizmoCall, which lets you make free phone calls right from your Web browser. (You supply the headset, Gizmo supplies the VoIP.) The only catch was that the freebie calls were limited to other GizmoCall users and a smattering of toll-free numbers, other VoIP services, and college campuses.
Enter CallingAmerica, an ad-heavy but otherwise free alternative to GizmoCall. Like the latter, CallingAmerica requires no software; all you need is your browser.
In fact, you don't even need to sign up: Just enter the phone number for anywhere in the U.S. or Canada and click FreeCall Now. You can make an unlimited number of calls this way, but each one is limited to two minutes. By registering (also free), the call cap gets raised to 15 minutes.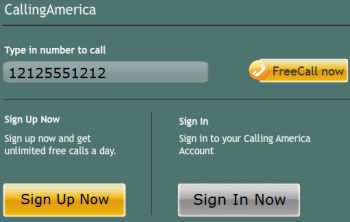 However, here's the rub: In order to register, you have to agree to receive e-mail from CallingAmerica "and its sponsors." Spam alert!
Whether you register or not, you'll have to spend 10 seconds looking at an ad before your call goes through. But that's the end of your obligation: There's no advertising on the call itself. The CallingAmerica site is pretty ad-laden, but so what?
I made a few test calls with CallingAmerica and was pretty impressed by the quality. Plus, I found that I didn't mind the 10-second "ad delay" one bit.
Granted, this is a pretty bare-bones service, without so much as a phone book for frequently dialed numbers. But if you just need to make a quick call, there's no cheaper solution.