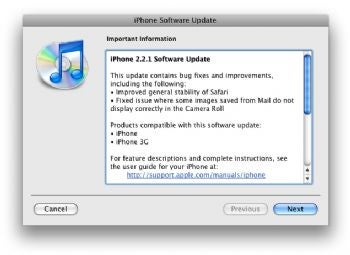 Apple released its iPhone 2.2.1 software update Tuesday — but don't get too excited. The update includes mainly fixes and minor improvements, and no signs of any noteworthy new features. Can someone cue the collective sigh of disappointment?
Inside iPhone 2.2.1
The iPhone 2.2.1 update, weighing in at a full 246.4MB, is the first firmware release since November's massive Google Street View-bringing and podcast download-enhancing 2.2 offering. Despite boasting the same healthy file size, this update's features are far less far out. The software is said to improve Safari's stability and fix an image issue in which pictures saved from Mail don't display properly in the Camera Roll. Yep — that's it.
The story's just a teensy bit sweeter for users of the iPod Touch. The 2.2.1 update for that device also includes a fix for an issue that caused Apple Lossless (ALAC) audio files to skip when played.
Conspicuously absent from the 2.2.1 update is the addition of support for push notifications — something that had once been rumored to be in the works.
Hey, there's always 3.0. For now, just plug your iPhone into your computer and the update will roll in via iTunes.