If there's any functional difference between BioPDF PDF Writer and Bullzip–two PDF creation utilities offered by the same company–it's too subtle for me. Except for the About tab in the print dialog, the programs are nearly identical visually. This is a very good thing, as I described Bullzip as a best-of-breed utility.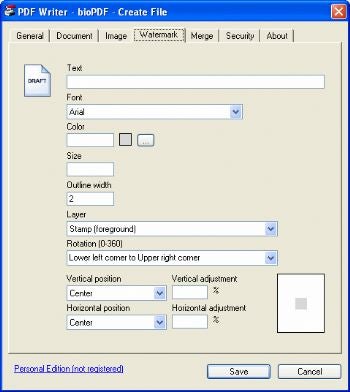 As with its brethren, BioPDF PDF Writer installs easily, automatically downloading and installing the Ghostscript Light PDF printer driver for which it's a front-end. It also offers the same watermarking, password protection, and merging. The only real differences seem to be a slight variation in the install routine and pricing. Where Bullzip is free but will accept donations via PayPal, BioPDF can be registered and paid for at the program's Web site. As downloaded, BioPDF PDF Writer is free for personal use.
No matter which version you opt for, opt for one. Bullzip and BioPDF PDF Writer are in a class of their own when it comes to ease of installation, ease of use, and features. Another big plus–no nags or ads. One way or another, throw them some bucks for the fine job if you can.