Frankie asked the Answer Line forum for the best way to back up the Windows Registry.
Backing up the Windows Registry isn't as important as backing up your data (including photos, music, and documents), but it's still a good idea. If Windows starts acting seriously weird, restoring the Registry to a point when it was healthy could save you a lot of grief.
Windows provides two methods for backing up your Registry. I'll discuss both of them, then tell you of a better, third-party yet free solution.
System Restore: Windows' built-in, semi-automated system backup tool protects a lot of important files in addition to the Registry. Windows is supposed to create a restore point (translation: backup) every day or so automatically, but don't trust that to happen. To create your own restore point in XP, select Start, All Programs, Accessories, System Tools, System Restore. Select Create a restore point, click Next and follow the wizard. In Vista, click Start, right-click Computer and select Properties. Click the System protection link, then the Create button.
In either Windows version, you can restore by selecting Start, All Programs, Accessories, System Tools, System Restore and following the prompts.
And hope it works.
Because no single restore point contains a complete backup, one corrupted or missing restore point can make all the ones that follow it unusable. What's more, Windows decides which points to keep and which to throw away, so it could throw out the one you use.
Regedit: Yes, you can back up the Registry using Windows' Registry editor. To launch the editor, select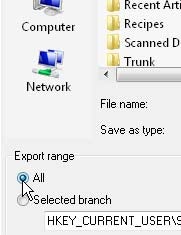 Start, Run (just Start in Vista), type regedit, and press ENTER. To make a backup, select File, Export. For the 'Export range,' select All, and otherwise do what you do in this sort of dialog box.
This creates a .reg file, and all you need do to restore it is double-click it and confirm that you want to change the Registry.
But this one also has problems. Restoring the entire Registry from this backup doesn't always work. And even when it does, it will not delete new keys created since you made the backup.
And now, the best solution:
ERUNT: A few months ago I recommended the Emergency Recovery Utility NT for XP users, but said it didn't work in Vista. I was wrong. This simple, free, and highly dependable Registry backup program gives off error messages and refuses to work properly in Vista–unless you know the trick.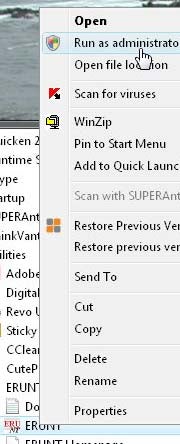 And here's the trick: Don't launch ERUNT by simply double-clicking the shortcut. Right-click the shortcut and select Run as administrator. That's it.
Well, there is one limitation. You can't automate ERUNT to run automatically with every boot from inside Vista, but that's excessive, anyway. Backing up the Registry before and after installing new software or a major upgrade is sufficient.
Once up, ERUNT is extremely simple–in Vista or XP. Each ERUNT backup consists of a folder containing several files. One of them is ERDNT.EXE, the restore program.
Finally, one quick note about restoring from any of these backups. If a restore fails, reboot into safe mode and try again. There's a better chance the restore will work that way–although no guarantee.
Read the original forum discussion at http://forums.pcworld.com/message/177110
Add your comments to this article below. If you have other tech questions, email them to me at answer@pcworld.com, or post them to a community of helpful folks on the PCW Answer Line forum.