You may not have heard of the Zumbafone yet, but its makers are confident it could revolutionize the way you communicate. Of course, they won't tell you much more — because the Zumbafone is currently considered top-secret, and you don't have clearance to enter the land of Zumba Lumba.
Intrigued? Or maybe just confused? Either way, you aren't alone. Read on.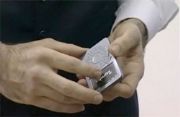 Mysterious Manufacturing
Let's start with the basics: The Zumbafone is a carefully shrouded device being developed by a British company called IA Technologies. The company manufactures military technology and a bunch of other stuff that, no matter how many times I read the various descriptions, I'm not quite sure what it is.
Within its Hereford-based headquarters, the folks at IA Tech have been working on what they call the world's first fully accurate voice-controlled mobile phone. It's also, they say, the world's first "backup replacement mobile" — meaning it stores all of its information on a remote server rather than on the phone itself. Because of that, your contacts and other data supposedly remain secure even if your phone is lost.
How the Zumbafone Works
The Zumbafone is the size of a credit card and contains two interlocking pieces. One half snaps off to function as an all-inclusive earpiece-phone. The other, when connected, offers a more traditional keypad and screen. I, for one, am hoping it also makes sandwiches — but that may be wishful thinking.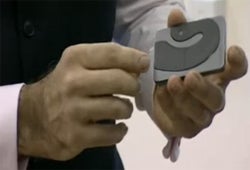 This much we do know: Once you attach the earpiece half, the Zumbafone links you to an "Internet portal" that holds all of your information. Say the name of a contact, and you're instantly connected. Tap a button, and you can speak out a text message and have it sent wherever you need. Incoming text messages are displayed on the screen half of the phone if you have it attached, or spoken aloud if you're wearing the earpiece.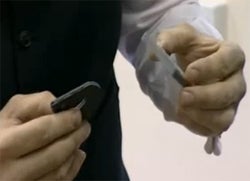 Zumbafone in Action
The guy who designed the Zumbafone is a fellow named Dean McEvoy. He's listed as CEO of "Zumba Limited," which may or may not be the same thing as "Zumba Lumba." McEvoy says he is dyslexic and has always struggled with tasks like typing and reading text messages. The Zumbafone is his four-years-in-the-works solution.
The device is slated to be on store shelves by the end of 2009. It's still seemingly too top-secret to be fully demoed, but the following video gives a little more detail about the cryptic creation. Just don't tell anyone we showed it to you.