Back in December, I broke down why you shouldn't buy a sub-$500 portable just yet. The reason: nVidia spokespeople swore then that we'd see the Ion platform in devices as soon as June of this year. While we still haven't heard as to when–or where–this mighty mite will show up, we did get a chance to play with the reference board. Curious to see how well the unit handles in the real world? Here's the deal.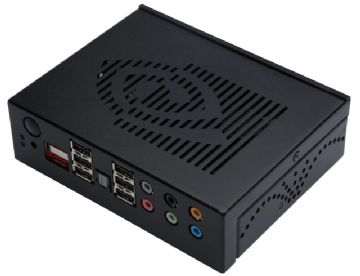 The small reference unit we have in-house won't reach store shelves, but I still wanted to give you the specs for a little perspective. This palm-size black box crams in a Seagate Momentus 200GB hard drive, 2GB of RAM, and a host of I/O ports, along with a 1.6-GHz Intel Z330 Atom CPU and an nVidia GeForce 9400M graphics processor. It also shipped to us with Windows Vista Enterprise Edition. No joke.
So how does it perform? In WorldBench 6 tests, it scored a 38. Not exactly scorching fast–that is, until you start stacking it up against netbooks, for which that score is a little above average. This machine, however, differs from the standard netbook configuration of 1GB of RAM and Windows XP. Why Vista? "Because we think people deserve a better experience," quipped one nVidia spokesperson. I'd rather "settle" for XP and see a faster WorldBench 6 score. But for the sake of the closest comparison I could muster, the Sony VAIO P, which also has 2GB of RAM, an Atom processor and chip set, and Windows Vista installed, ran nine points slower on WorldBench 6. Okay, nVidia, you've made your point. But I'd wager that having XP installed would probably tack another five to ten points onto the WorldBench 6 score.

One other big variable is what the GeForce 9400M GPU brings to the party. Well, it does give the little box the ability to play games–to a degree. You won't see top-notch resolutions, but just the simple fact that games start up is a small victory. As I noted in my previous article, the machine churns out roughly 25 frames per second playing Call of Duty 4 at 1024-by-768-pixel resolution; without the GPU, the game won't even start. Slightly more demanding tests within our WorldBench 6 suite, though, didn't turn out quite as rosy. Enemy Territory: Quake Wars stuttered at about 20 frames per second with similar settings.
Another significant test is trying to get video up and running with one of these machines. The Atom CPU simply can't handle high-def video on its own–fact. In the case of every netbook currently on the market, you're lucky if you can get anything to run smoothly above 320 by 240 pixels. So imagine my surprise at seeing the X-Men Origins: Wolverine trailer (okay, so I'm a nerd) run virtually hiccup-free–at 1080p, no less–with very little in the way of frame slowdown.
What? You don't believe me? Check out the video of me kicking the tires on the Ion platform and see for yourself!