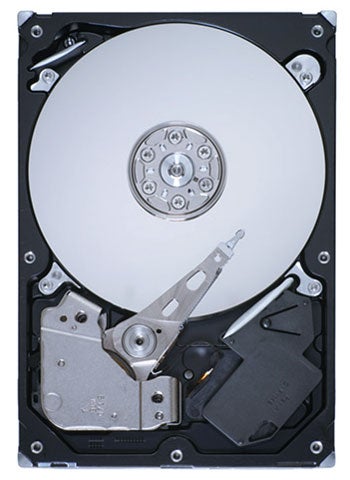 Less than one week after Western Digital's 2TB Caviar Green WD20EASD hard drive hit stores (as we reported here), Seagate has up-and-launched its own rival hard drive family featuring a 2TB storage titan. The company's new Constellation series of enterprise drives will arrive in 2.5- and 3.5-inch varieties, and you can expect that this is just the first salvo that paves the way for a future addition to the Barracuda 7200.12 family: A consumer-grade 2TB hard drive.
Two Point Five
The two hard drives in the 2.5-inch Constellation series are coming in at a boring 160GB and a whopping 500GB. Well, ok, so Seagate's been shipping drives of this size for some time now. The company's Momentus line of hard drives has already hit the 250 GB/platter mark, so this isn't so much an announcement of capacity as it is of feature sets. The two 2.5-inch drives will arrive with either a SATA 3.0 Gb/s or SAS 2.0 (6.0 Gb/s speeds) connection interface. Borrowing a page from Western Digital's Green book, the 2.5-inch drives will incorporate Seagate's PowerChoice technology–allegedly spinning the drives down when they aren't in use. It's not quite the modulating 5,400-RPM to 7,200 RPM power savings feature of Western Digital's Green-branded drives, but Seagate alleges that the move will allow enterprise customers to cut power consumption by 54 percent.
Three Point Five
Here's the meat and potatoes. Seagate is releasing a trio of Constellation ES 3.5-inch drives at sizes of 500GB, 1TB, and 2TB. Since the company has capped out its areal density at 500 GB/platter, expect the three drives to run on one, two, and four platters respectively. This should give the 7,200 RPM drives a delicious amount of speed, as increasing the areal density of a platter allows the drive head to access more data in an equivalent period of time as a disk that uses less areal density. In simplified terms, consider a drive's areal density to be a measurement of how closely the data is mashed together. When you mash more data together, you're only increasing the amount of data that can be read from a single location. Similarly, you're decreasing the length the drive head has to travel to access new data.
More than that, expect Seagate's 7,200 RPM drives to pull in faster overall read and write speeds than Western Digital's 2TB drive (previewed here). That's because the WD drive modulates between 5,400 RPM and 7,200 RPM rotational speeds–it's a function of the drive's power-saving features. What Western Digital gains in constant power savings, it loses in overall performance. By contrast, Seagate's Constellation-class drives spin at 7,200 RPM and only power down when the drive isn't being used. I've seen this performance gap play out when all the major drive manufacturers released their 1TB drives, and I'd expect nothing less to happen with the 2TB varieties. Western Digital's Green line just isn't geared for speed when you compare it to its counterparts.
And that's that. The Constellation ES-series drives contain the same features as their 2.5-inch counterparts. Expect the former to ship in the third quarter of the year, with the latter available later this quarter. It's a curious move for Seagate, given that the company could swoop in right now and likely claim the title of fastest-performer for the 2TB hard drive space. Unless Seagate has a few tricks remaining in its sleeve–including the release of a consumer-branded 2TB drive–you'll be waiting a few months to get your hands on one of these enterprise-class models.