I accumulate piles of business cards from trade shows and meetings, but I often feel overwhelmed when entering them into my address book by hand. Thankfully, a business card scanner can automate this rote task… mostly.
Several companies make scanners for this niche; I recently tried the CardScan Executive. While a little bulky, the scanner is small enough to pack for travel, about the size of a narrow, thick day-planner. At least it needs no power cable, connecting only through USB.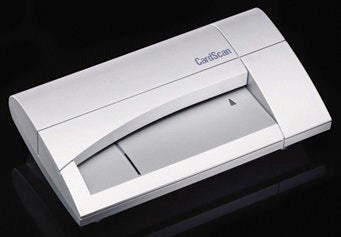 Bundled software scans and translates the image into contact-entry text fields. Then it syncs data between Outlook or other applications. Each card only took me a few seconds to scan, but the character recognition process was clumsier.
Most simple cards worked well, with the scanner identifying the proper phone numbers, address, company name, title, and more. But the process wasn't as automated as I hoped; I had to spend another 15 seconds editing some cards to correct the software's mistakes.
The software outlines parts of the card from where it strips data, so I just wanted to correct errors in those outlines. For example, it sometimes drew a box around only part of a phone number or outlined something completely wrong; it would have been faster to fix those outlines than to retype data, but that's not an option.
Even with these complaints, I'm considering putting this or another card scanner into my routine. I'll still save time untangling my backlog of cards, and I'll make quick work of new contacts.