Bridging the gap between a fully-fledged digital camera and a touchscreen mobile phone is the new Samsung Memoir, which will be available from T-Mobile. Equipped with an 8-megapixel camera with a Xenon Flash, the Memoir should be a camera-phone fanboy's dream.
The Samsung Memoir (aka the SGH-T929) will work on T-Mobile's 3G network and will also feature a full HTML browser, a virtual QWERTY keyboard, and a whole lot of other multimedia features. Unfortunately, T-Mobile did not announce an exact launch date or price (though some speculate that Memoir will launch February 25 for $299 with a two year contract).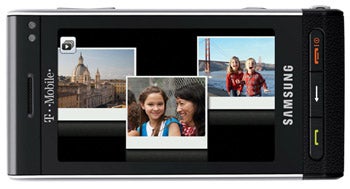 The Memoir's feature set is focused on multimedia, with sharing in mind. Photos can be uploaded directly to online services such as Flickr, Photobucket, Snapfish or Kodak gallery. The 8 megapixel camera, which includes a 16x (digital) zoom, will also shoot video. On the downside, the Samsung Memoir lacks Wi-Fi (like the BlackBerry Storm), something that might disappoint many, especially considering T-Mobile's 3G patchy network coverage.
You should also keep in mind that the Memoir is not an iPhone replacement. Its multimedia features make it highly desirable for photography fans, but the phone's TouchWiz user interface–though appealing–doesn't come close to the functionality of the iPhone. Oh, and did I mention there's no App store? You'll be better off if you consider the Memoir more of an 8-megapixel camera that also makes calls.
Here are Samsung Memoir's key features at a glance:
– 8 Megapixel Camera with Xenon flash and 16X digital zoom
– microSD slot for storage capacity expansion
– A-GPS for navigation and location based services
– 240 x 400 pixels touchscreen display (262k TFT)
– Full HTML browser and POP3 e-mail support
– TouchWiz interface with customizable widgets
– 3G/EDGE/GPRS data access speeds compatible
– Wireless Bluetooth 2.0 technology (Stereo)