An iPhone or iPod touch can drive slides in Apple's new Keynote 09, but several PowerPoint alternatives do the same trick on a PC. The iPhone connects through your local Wi-Fi network for unimpeded reception. Unfortunately, you can't connect through Bluetooth if without a network. But with that caveat in mind, here are my thoughts on three options.
iPresenter [App Store link]: This app includes the core functionality needed for presentations, but little else. You can view the current or next slide from the iPhone, move ahead or back, and that's about it. I had installation difficulties on one of my Vista PCs but got it working in XP. Like the others, this app requires a software utility to run on the PowerPoint computer. Unlike the others, that utility weighs in at a bloated 27MB.
mbPointer [App Store link]: This tool's iPhone interface is crammed with extraneous buttons, including the basics to move through slides. But extra input features are impressive, including a mouse mode that drives the pointer via a touchpad or iPhone tilts. You can even scribble on slides for immediate annotation. But the iPhone screen only shows a its cluttered buttons, not your PowerPoint slide or notes.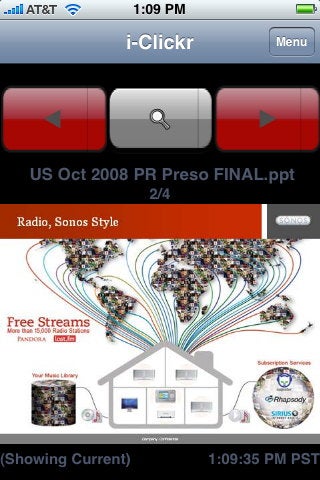 iClickr [App Store link]: This tool takes a simple–but complete–approach. You can see big images of the current or next slide on the iPhone, even filling most of the screen if you rotate into a horizontal view. iClickr jumps between adjacent slides but can also quickly access a list of the full deck for bigger hops. While you can also reference speaking notes, you don't even have to look at the screen to change slides; double-taps and swipe gestures can also control movement.
I like iClickr best for its balance of features and uncluttered interface. If you need to draw annotations or control a mouse, consider mbPointer as an alternative. While iPresenter shows slides on the iPhone, its sparse options are the least developed.
Before giving your big presentation, just be sure to deactivate the iPhone's cellular connection. In Settings, put the iPhone in Airplane Mode then manually reactivate Wi-Fi to avoid calls.
16GB iPhone 3G
Price When Reviewed:
$239.99
Read our full
16GB iPhone 3G review