One of my favorite Google tricks is site-specific searching. In other words, you run a Google search just like you usually would, but limit the scope to one site.
Suppose, for instance, that you're trying to find an old post of mine–say, the one about using Gmail to filter spam. One option is to head to PC World, type in a few keywords, then wade through the results in hopes of finding the post.
Or, you could save several steps and type this into your Google search bar:
site:pcworld.com broida gmail
Try it. You'll see that the exact post appears in the first two search results. Now, suppose you recall hearing an NPR story featuring the music of Brendan Benson. Instead of slogging through NPR's own less-than-stellar search engine, just hit Google with this:
site:npr.org brendan benson
Get the idea? Just prefix any search with site: and the domain name, making sure to leave no space after the colon.
Got a Google trick of your own to share? Leave a comment with your favorites, and I might just feature it in an upcoming Hassle-Free PC post! (I know, dream come true, right?)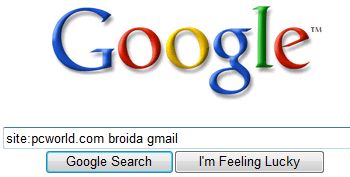 Note: When you purchase something after clicking links in our articles, we may earn a small commission. Read our affiliate link policy for more details.