Internet Explorer. Firefox. Safari. Opera. Google Chrome. They're all great browsers–as long as you have an active Internet connection. But when you're without Internet access, most browsers lose their power. Not the free Wysigot Light, an offline browser that captures entire Web sites so you can peruse them at your leisure.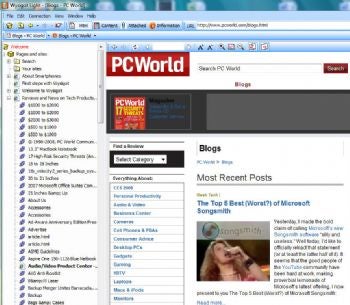 When you launch Wysigot Light, a site capture assistant will guide you through the process of collecting Web pages for offline viewing. You enter a URL and can choose how much of the site to capture: the first page only, the first page and any pages it links to, or the entire site. Wysigot Light then downloads the pages, and displays them in an outline that is viewable in a window on the left-hand side of your screen. You can click on any of the pages, and they'll appear in Wysigot Light's main window.
Wysigot's interface isn't as streamlined as that of most browsers; its interface is a bit crowded and text-heavy. Still, you can browse through sites almost as you do online–you just have to remember that some of the links may not work, depending on how much of the site's content you've chosen to download. You also can choose whether or not to allow scripts to run, and can deactivate ActiveX and cookies–though doing so may mean that some pages will not display properly.
Wysigot Light will also regularly check the pages it has collected to see if they've changed (based on a schedule you can set), and will automatically gather any changes for you. Updated content is highlighted in yellow, so you can see at a glance what's changed.
In addition to Web sites, Wysigot Light can be used to capture documents stored on a network. A $40 version, Wysigot Plus, adds the ability to export the content you collect, so it can be viewed outside of the application.
The company says Wysigot could become your regular browser. I wouldn't go that, but the application will be useful for frequent travelers who need to view Web content on planes, and for the few folks out there who are still using dial-up connections to access the Internet.