Your smart phone probably comes with all the software you need to sync it to your computer. But if you want to do more than just sync basic information, such as your contacts and calendars, you'll need more than just the basic software. Enter the $25 MOBILedit Lite, a utility that lets you sync a variety of files–everything from basic documents to YouTube videos–to your phone, while also allowing you to control that phone from your PC.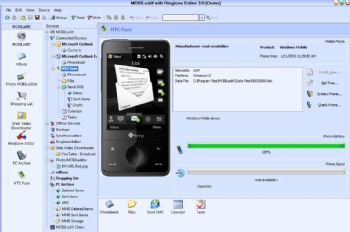 MOBILedit packs in more features than competing apps, like MyMobiler, but it's also more complicated to use. MyMobiler works with Windows Mobile phones only, and simply allows you to see your phone and control it from your Windows-based PC. Its desktop interface is that of your phone–only bigger. MOBILedit, on the other hand, works with a variety of phones and platforms (a complete list of supported handsets is available on their site), and lets you explore the contents of your phone through a Windows Explorer-like folder structure.
It can connect to phones via USB, IrDA, or Bluetooth. When your phone is connected, it displays information, such as battery and signal strength, and lets you browse through the phone's data, including your contacts and stored files. It allows you to backup any of the information stored on your phone and store it on your PC–but that's just the tip of the iceberg.
From within MOBILedit, you can compose an e-mail or text message and send it from your phone. You can search for YouTube vides and sync them to your phone. You also can open photos stored on the phone, and edit them on your PC. You can even edit ringtones and send them to your phone.
MOBILedit also lets you create what it calls a "shopping list"–which can be any kind of list you want. You create it on your desktop, and can sync it to your phone, so you'll have it with you when you're on the go. Another feature, called mBoox, lets you copy Word documents, pictures, and online articles from your PC and sync them to your phone (which must support Java), where they appear in one file that you can scroll through.
MOBILedit worked as advertised, but I found it tricky to use. When I connected a Windows Mobile-based phone, the handset also appeared in the application's menu system. But when I tried to sync information to the phone, I was told it was not connected–even though I could see it listed. I had to disconnect and re-connect to get it to work.
MOBILedit may be a bit complicated to use, but that's because it offers so many features. In terms of syncing information to your cell phone, there's not much it can't do.