Gmail has a new feature that pumps up filters and labels to help keep your e-mail organized. Called "Multiple Inboxes," the new tool lets you see up to four lists of e-mail messages in addition to your inbox, all on one screen. (Click on the above image for a closer look) Two of the great features of Gmail are labels and filters, which allow you to highlight and handle e-mail based on search criteria of your own choosing. While these features help you stay organized, you must switch between views to see what's going on with each label or filter. Adding Multiple Inboxes cleans that up so you can see all your different lists at a glance.
So how can Multiple Inboxes help me?
Let's say you're on the mailing lists for Sony's Playstation Network or Microsoft's Xbox.com newsletter. While you may want to read them later, sometimes e-mail like these just pile up and get in the way. Instead of unsubscribing and losing out on gaming news, just use filters and labels to clean up your inbox. Create a label like "gaming," for example, and then create a filter to mark every "gaming" message as read. Then when you have time to look over the latest gaming news, you simply click on the label in your Gmail pane and all the labeled messages pop up. Multiple Inboxes takes this to the next level by allowing you to see your "gaming" label every time you open up your inbox.
What you see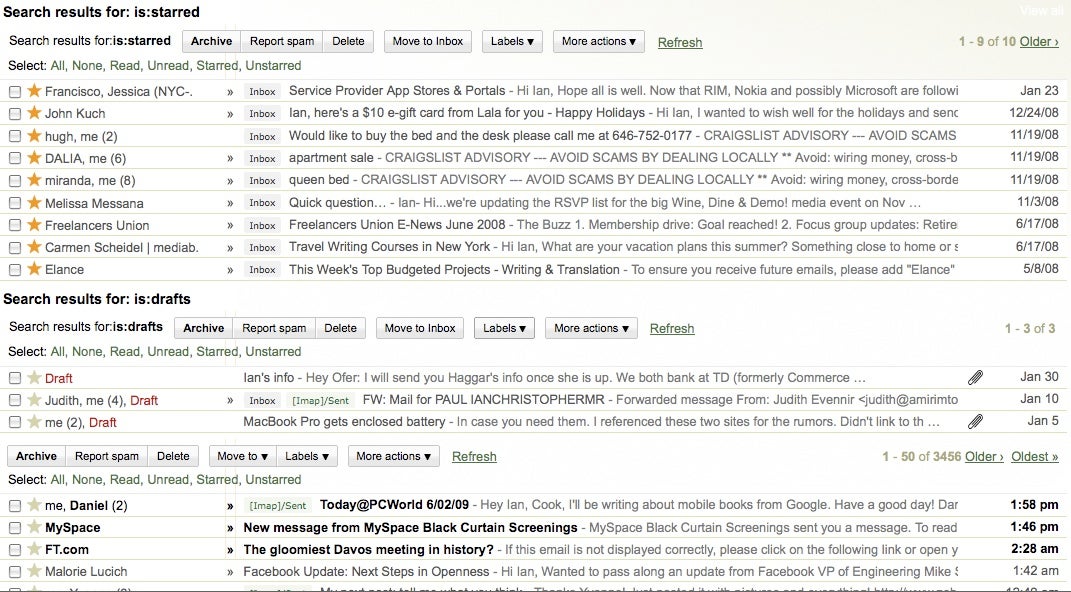 Multiple Inboxes can show four different e-mail lists in addition to your inbox. By default, MI is set to display starred and draft messages (as shown; click to enlarge). However. you can modify this to anything you want. You can also arrange the look of MI to put your lists above, below, or to the right of your main inbox. MI also lets you control the number of messages you see on each list. This number is set to 9 by default, but you can set that number between 1-99. In my tests, however, setting the number too low caused some viewing problems.
Multiple Inboxes will be a handy tool for anyone who needs to stay organized, especially if you keep multiple roles such as work, family, and friends in one inbox. If you were hoping "Multiple Inboxes" meant multiple accounts in one Inbox, you can do that too. Just use Google's mail fetcher to grab mail from up to five accounts, like Yahoo mail for example, then set up a filter for all messages addressed to your Yahoo account. Display that filter using MI, and you've got an instant e-mail client in the clouds.