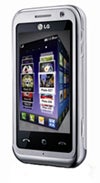 LG Electronics offered a glimpse on Sunday of its new flagship multimedia cell phone, called Arena, that will debut at next week's Mobile World Congress expo in Barcelona.
The Arena KM900 handset features a new LG user interface based around the concept of a cube. The user can switch screens within the three-dimensional interface by turning from one face of the cube to the next. Underneath the main display are four icons that provide quick access to functions such as phone calls and e-mail, according to an image released by the company.
The phone is the latest in a line of handsets from major manufacturers that feature highly graphical user interfaces. Many of them take design cues from Apple's successful iPhone. Like the iPhone the Arena also has a large display that occupies most of the front face of the phone.
Other features of the handset include Dolby and Divx support, HSDPA (High-speed Downlink Packet Access) data at 7.2Mbps, Wi-Fi and GPS (Global Positioning System).
It is scheduled to be officially unveiled at a news conference on February 16.