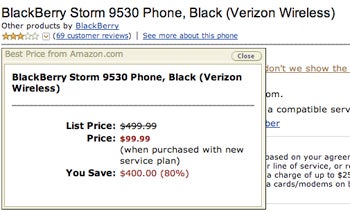 Still craving a BlackBerry Storm? This might be the right time to get one. Amazon has lowered the price of the BlackBerry Storm to $99 — albeit with a few catches. This deal beats Verizon's own buy-one get-one-free offer, especially if you don't need to BlackBerry Storm handsets. The Amazon deal is for just one device and you don't have to fill-out any mail-in rebate forms.
Amazon's $99 BlackBerry Storm deal is basically a $250 instant discount. The catch is you are agreeing to a two-year contract with Verizon. Deactivating the phone, cancelling your service line, or reducing the service plan within the first 181 days equals a penalty of $250.
Verizon's current buy-one get-one-free offer also equates to $99 per Blackberry Storm, but you have to sign up for two contracts (or two lines). Each deal has its own advantages — if you're just looking into upgrading your phone and you don't change your handsets too often, then Amazon's offer might just be the one (you get free two-day delivery as well). Alternatively, Verizon's deal could be better if you think of upgrading both your and your partner's phone.
Now, I can't help noticing how Verizon is heavily subsidizing the BlackBerry Storm. The components in the Storm reportedly cost $203 (in comparison to $174 for an iPhone) so the current deal basically offers the device half price, that is without calculating Research In Motion's research and development costs for the Storm. Meanwhile, the iPhone still sells for $199 with a two-year contract and a similar price plan.
Not convinced? Check out my previous article — It's Official: Blackberry Storm Is No iPhone Killer. Would you buy a BlackBerry Storm over an iPhone just because of the huge slice in price? Please let me know in the comments.