Here at a New York City media event, Amazon launched its second-generation e-book reader, the Kindle 2. This much anticipated update to the Kindle is priced at $359 and sports a new svelte design, longer battery life, and an improved display. Amazon is taking pre-orders today with
units scheduled to ship to customers starting February 24. Current Kindle owners who pre-order the Kindle 2 by February 10 will jump to the front of the waiting list, Amazon says.
It turns out the leaked info on the Kindle 2 was spot-on. The images correctly reflected the new Kindle's notably more svelte and contoured industrial design.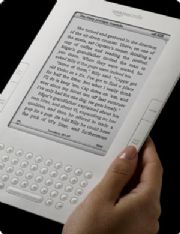 The second-generation Kindle also bears a passing resemblance to the first-gen model. It's still a shade of white, it still has a keyboard at the bottom, and the front face is still dominated by its E-Ink display. This model weighs 10.2 ounces (to the first Kindle's 10.1 ounces) and it's far slimmer — just 0.36 inches thick, 25 percent less than Apple's iPhone 3G (which measures 0.48 inches thick). "This is an incredible engineering challenge," says Amazon CEO Jeff Bezos.
More Titles
"Our vision is for every book ever printed in every language to be available in less than 60 seconds," Bezos says. He notes that 230,000 Kindle titles are available today; 40,000 were added in the past few months; and of the titles available in print and Kindle form, 10 percent of sales are in the Kindle e-book format.
"That's an astonishing fact considering we've been working on print book sales for 14 years, and Kindle book sales for 14 months," says Bezos. Selection is critical to success: Bezos emphasizes that 103 of 110 New York Times bestsellers are available, at a cost of $9.99 or less.
Bezos acknowledges the popularity of short-form reading. The goal with Kindle, he said, is to give new life to long form reading. "Long form teaches things that can't be taught any other way. [But] long form reading is losing ground to short-form reading," Bezos noted at the top of the event. "We change our tools, and our tools change us. We have lots of evidence now, thousands of e-mails, that people are reading more because of their Kindle."
New Sync Options
The biggest news was actually buried in today's official Kindle 2 unveiling: Amazon has also launched its Whispersync service, which will synchronize your book reading among multiple devices, including the original Kindle, the Kindle 2, and "other mobile devices" in the future. "It will even keep your page, wirelessly," Bezos said of this new feature.
Not only is this feature attractive–you can pick up where you left off, regardless of the device–but it was notable for its inference to Kindle books being available on devices other than the Kindle. This was the second such inference during Bezos' presentation. And at demos after the announcement, Amazon did confirm that it will be making Kindle editions available on mobile phones, but did not confirm any timeframe or specific devices.
"We have been working for years to evolve the tools that are necessary to bring long-form to [the digital realm]," Bezos added. "It didn't work–" he paused dramatically–"until 14 months ago."
Other new features of the Kindle 2: Text-to-speech voice, a completely redesigned navigation system, and a crisper, faster display that supports 16 shades of gray on a 6-inch display with 600 by 800 pixel resolution.
The new unit also has 2GB of memory (up from 180MB), and Amazon says its battery lasts 25 percent longer. The company says the capacity translates to more than 1500 books.
'Experimental Features'
Kindle 2 also features a handful of "experimental features" still in development, and Amazon is seeking comment on them. Those include a "Read-to-Me" text-to-voice function that supports audio books, and readers can switch between the audible reading and text-only. Related is the new capability to play MP3 files, as well as a basic Web browser and PDF document conversion.
(Next up: our hands-on evaluation)
Here are some extra images and details regarding the Kindle 2 from Amazon: