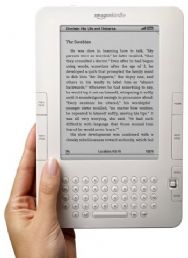 As expected, Amazon unveiled a new version of its Kindle electronic book reader on Monday, with a host of new features and 3G wireless capability to make it easier for people to download and read books and other documents on the new device.
Amazon.com founder, Chairman and CEO Jeff Bezos unveiled Kindle 2 at a press conference at The Morgan Library & Museum in Manhattan. He demonstrated key new features of the slimmed-down device that he said make it more user-friendly so people can more closely emulate the feeling of reading an actual paper book when using Kindle.
Amazon also enlisted famous U.S. fiction and horror writer Stephen King to appear at the launch and write a novella that features a Kindle with supernatural powers to be distributed exclusively via the device. That novella, called "Ur," is now available, and King read an excerpt from it at the event.
Bezos said that Amazon knew when it was designing the first Kindle that the only way an e-book reader would appeal to people who love books is if it was designed to let readers "disappear so you can enter the author's world."
To facilitate this in Kindle 2, Amazon has recessed the buttons of the new Kindle into the device to make them less obtrusive. Users also can switch Kindle 2 more easily from one hand to the other than they could its predecessor, he said. The Kindle 2 is also slimmer and lighter.
Kindle 2 is equipped with 3G, which makes downloading books and documents faster than on Kindle 1, Bezos said. It has 2G of memory, which allows it to store more than 1,500 books; the original Kindle could store only 200. The battery of the life also is 25 percent longer than the previous version.
Like its predecessor, Kindle 2 has a 6-inch, 600 x 800 electronic paper display, but it now provides 16 shades of gray versus the four shades available in the original version of the device.
New enhanced features that go beyond what actual books can do are a five-way navigation device for, among other things, finding text and shuffling through pages, and a text-to-speech feature that allows the device to read aloud to users. Bezos demonstrated the latter during the press conference with U.S. President Abraham Lincoln's famous "Gettysburg Address."
Another new feature Bezos introduced, called "Whispersync" to help users sync content from Kindle 1 to Kindle 2, Bezos said. The feature will save a user's place in a book or a document automatically so they can resume reading where they left off after syncing with the new device.
Amazon also has included a new 250,000-word dictionary in Kindle 2 so users can automatically look up words using its five-way navigational button.
Like Kindle 1, users can purchase and download books and newspapers for the new device on the Kindle Store via Amazon Whisphernet, the company's wireless delivery system. Most books are US$9.99 or less, and Amazon covers the cost of wireless connectivity so users don't have to pay monthly for a separate wireless account on the device. This also eliminates the need for a PC, Wi-Fi hotspot or any syncing in order to download content to the device.
Amazon unveiled the Kindle in November 2007. Interest at first was lackluster, but about a year after its release U.S. talk-show host and media mogul Oprah Winfrey promoted the device, which sent sales surging. Amazon couldn't handle the demand her endorsement inspired and Kindle 1 has been out of stock since November.
Kindle 2 is available for preorder now for $359, the same price as its predecessor. Shipping will begin Feb. 24.
Amazon also is offering a special deal for owners of Kindle 1. If they order the new device before midnight local time tomorrow night, they will get priority over other buyers of the device.
With the Kindle, Amazon hopes to change the publishing industry the way Apple changed the music industry with the iPod. Bezos said the company's ultimate goal with the device is to have "every book ever printed in any language, all available [for download] in less than 60 seconds."
As it stands, there are now 230,000 books available on the Kindle, with 40,000 of those being made available in the last three months alone.
The USA Today newspaper and The New Yorker magazine are now available for the device, Bezos said. Kindle users already can download the New York Times, the Washington Post and Wall Street Journal newspapers.
By Monday's launch, photos and details about Kindle 2 were already all over the Web, having been leaked via various blogs over the weekend.
More information about the device and how to preorder can be found on the Amazon Web site.