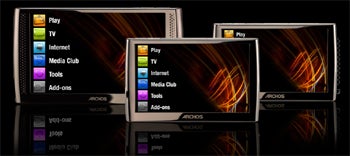 Media-player manufacturer Archos is developing a portable tablet-phone that uses the Google Android operating system. The touch-screen device, soon to be known as the Internet Media Tablet, will be released in the 3rd quarter of 2009, the company announced. No word yet on pricing, but so far the spec sheet looks promising:
* High-resolution, 5-inch display
* TV recording and HD video playback
* "Hundreds of hours" of video storage (up to 500GB)
* An ultra-thin, 10-mm casing
* Adobe Flash support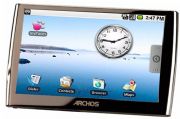 Given Archos' expertise with elegant, high-end media players, it's a logical step for the company to make the leap to the mobile phone market, particularly in light of the popular wisdom that standalone media gadgets will soon go the way of the VCR. A tablet-phone with a 5-inch display may make a dandy mobile device, particularly for users who do a lot of web browsing.
But perhaps the bigger story here is Google's Android ambitions. Archos' Internet Media Tablet, with its powerful video capabilities and relatively large screen (for a smart phone, anyway), inches closer to netbook territory. And while Google has made it clear that Android is a mobile operating system-at least for now-there's little doubt that the OS will soon make the leap to other tech devices, including set-top boxes and eventually even netbook computers, as this VentureBeat FAQ indicates.
Personally, I like the idea of Android on netbooks. The mobile phone version of Android is intuitive and easier to learn than the clunky Windows Mobile, and hopefully Google can extend that success to other computing devices. Microsoft, be very afraid.