I wish there had been something like Musaic Box ($20) when I was young and first learning about classical music. It's not so much a game as a learning experience/classical music recruitment poster of the first order. The lush graphics invoke an idealized musical environment with a bevy of instruments and musically related objects scattered about. It's warm and evocative; I spent a good deal of time just staring at the opening screen. Then again, I'm a classically trained musician.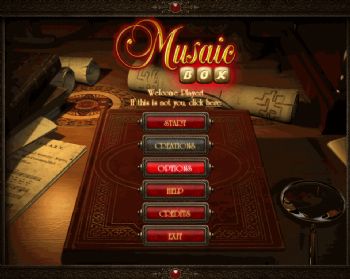 The game itself is of the simple click-on-displayed-objects type with a tiny bit of difficultly thrown in via simple puzzle arranging–move the pieces till the song sounds right. A helping of musical trivia keeps it interesting for older users . (Did you know the tune "Good Morning to All" was the basis for the ever-popular "Happy Birthday"?) The music is rendered in a pop/classical style but isn't overly trite.
If you're looking for excitement, this ain't the game for you; Stone cold alien-killers will blow raspberries this effort's way. However, if you're a classical music fan who wants to spend some downtime in engaging fashion, or you want to instill musical interest into a youthful family member (or measure it) you should definitely take a look at Musaic Box. You can play an hour for free.