Google Latitude is a useful–if slightly creepy–way to track your location on a mobile phone or GPS laptop. But you can get roughly the same sense of fleeting privacy on any old Wi-Fi PC; Google Latitude automatically pegged me within about 100 feet of my ground-floor office on GPS-free laptop.
The process works through Skyhook's Wi-Fi mapping and triangulation technology. The results aren't as accurate as a clear GPS signal; I've been misplaced in some neighborhoods by about a half-mile, and Wi-Fi locating is useless in rural areas without a network. But it adds another trick to Google Latitude for free. Here's how to activate the feature in Firefox or Internet Explorer.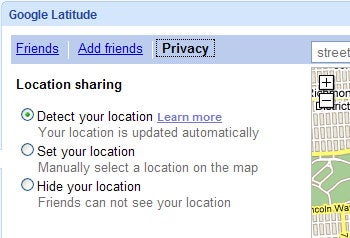 Sign in and install Google Latitude if needed. Click the maximize button in the upper-right side of the window. Click the Privacy link, and choose the radio button to Detect your location. Click the link to Learn more. Click the link to Get Gears and choose Install Gears. Run the installer, restart Firefox, and return to Google Latitude. Approve the warning, and click Allow.
Now when you visit Google Latitude, it'll triangulate your location through Wi-Fi. If you manually change your location, just reset that Privacy preference to restore auto-location.

Find yourself in Google Maps You can also enable similar auto-locating in Google Maps within Firefox after a few additional installations. Install Geode and restart Firefox. Then, you'll need to add Greasemonkey if currently not enabled. Click Add to Firefox and Install Now. Restart Firefox, and install the Google Maps & Geode – Together At Last script. Click Install in the upper-right, and press Install again.

Load Google Maps and click the new text link to show Current Position. Approve the security options; I like to set the Exact location for this kind of search.