I hang my home-page hat on iGoogle, which I like for its huge library of gadgets (little add-ons you can use to customize your pages) and easy integration with various Google apps (like Gmail and Google Docs).
I think the single most useful gadget on my iGoogle page is the Days Since Counter, which solves the problem of trying to remember how many days it's been since I did something.
For example, I have to replace my home's water filters every 90 days. So I created this entry: "I replaced the water filters." Whenever I load my iGoogle page, I check to see how many days it's been. When the counter hits 90, I know it's time to swap the filters–at which time I reset the counter to zero.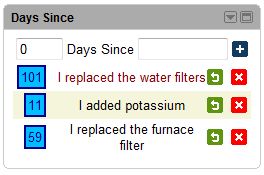 Before I started using this tool, I'd put recurring reminders in my calendar. But, procrastinator that I am, I'd usually dismiss the reminder once it appeared and then forget about it. With the counter, I see a running tally of "days since," which I find a much better motivator. ("Dang, it's been 100 days, no wonder the water tastes terrible!")
I also use the Days Since Counter to track rebates I've mailed. Once I hit, say, the 56-day mark on a rebate that was supposed to arrive in 6-8 weeks, I know it's time to follow up with the fulfillment company.
How would you use the Days Since Counter? Leave your suggestions in the Comments area below. Or just tell me about one of your favorite iGoogle gadgets and how it helps you solve a problem.