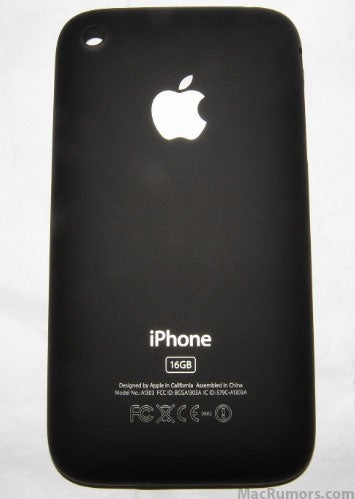 Photos of what appears to be the back casing of an updated Apple iPhone have surfaced. From what can be deciphered from the photo, this alleged new model iPhone may come in black, might be contoured and textured to give you a better grip, and apparently has a matte finish. The supposed first shot of this new iPhone model (shown below) features just the bottom of the back casing and comes via the Apple sleuths at iPod Observer. The site claims it obtained images from an anonymous source in China. Not long after iPod Observer posted its image, the site MacRumors came out with a few more that fit with iPod Observer's "leak."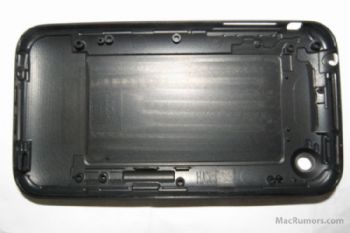 I am tempted to treat these rumors as being a little more credible than usual. You may recall that iPod Observer called it when the iPhone switched from a satin nickel finish to a glossy black plastic back.
However, I have to say, "who the hell cares?" I mean really, what have we learned from these photos? Now we know that Apple may or may not release an updated iPhone this year, which isn't much of a shocker. We also know that if a new iPhone shows up that one of the models will be black. Yawn.
We also know that it will have a new model number (A1303, if you must know), which obviously means, well, the new model will have a new model number. The back also appears to have some ridges and textured, possibly to give the iPhone a non-slip grip. That's nice, but not a particularly big selling feature.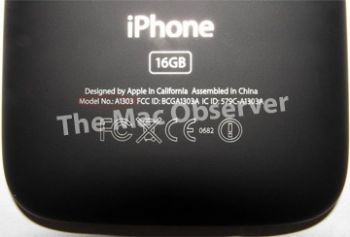 What we really want to know is what will be inside the new iPhone. The photos depict a 16GB iPhone, but what about a 32GB model? Could this be the much anticipated and often rumored $99 iPhone we've been hearing about? What about more features or a faster processor? Anything? Anything at all? Nope, just some photos of a shell that may be the real deal or may just be some Photoshop magic.
Now, I know what you're asking, "why are you showing us these photos if you think they're so lame?" Well, that's simple; I love iPhone rumors. Don't you?