CityMint, a $3 app for the iPhone or iPod Touch, puts a menu and ordering system for local restaurants in your pocket. You can select a listed restaurant, view its menu and choose your order, and then fire it off to the restaurant.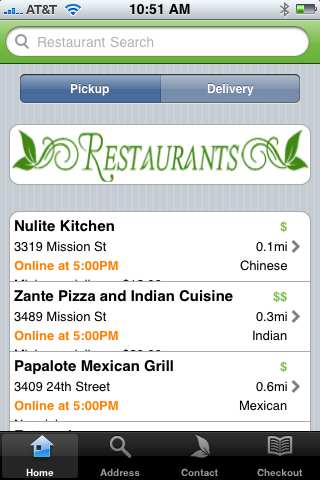 If your prep work for a meal typically involves a phone rather than an oven, CityMint may be for you. The app starts by showing you take-out or delivery options around your current location, and you can type in another address to find options in other areas. Tap a restaurant to see its menu, select your cravings, and fire off an order. Easy stuff.
But there are drawbacks. First, CityMint currently lists restaurants only in Boston, Chicago, New York, Los Angeles, San Francisco, and Seattle. It plans to add more cities, but it also needs to add more restaurants: It lists only four delivery options for my address in San Francisco, for instance, when my neighborhood is packed with restaurants that deliver. Expect that list to grow, but for now your choices may be limited.
Also, while you could use CityMint to find restaurants around your current location if you're out and about, you won't find any reviews or ratings from pros or users to guide you towards the good ones.
Still, if you know what you want–and what you want is listed in CityMint–the app could save you the fuss and potential confusion of a call.