A new card counting program in the iTunes app store may be illicitly helping gamblers beat the casinos at blackjack. The program is hard to detect, because it runs in "stealth mode" where the app can be used to count cards while the iPhone appears to be turned off. A Northern California Indian casino was the first to discover the program on its gambling floor, and quickly notified the California Bureau of Gambling Control to the app's existence. California then notified their Nevada counterparts to watch out for the app in Las Vegas casinos, according to the Las Vegas Review-Journal.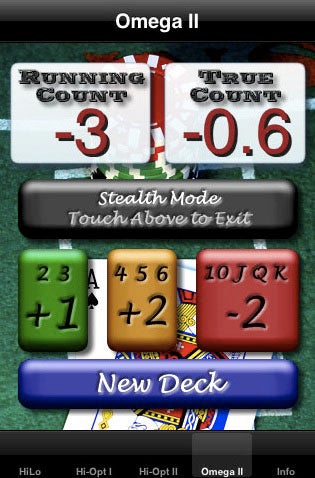 The program in question seems to be a publicly available app in the iTunes store called "Blackjack Card Counter," and filed in the iTunes app store as "A Blackjack Card Counter." The iTunes page for Blackjack Counter features a photograph declaring, "The iPhone App Casinos Hate!" The program has four strategies for counting cards, as well as the previously mentioned "stealth mode" where the screen goes black, but still works behind the scenes enabling a user to discreetly count cards.
Blackjack Card Counter was designed by Webtopia, a one-man operation run by Travis Yates, who designs Web sites and iPhone apps from his home in Australia. While the counter's page clearly states that using this app while playing blackjack in a casino is illegal, it seems unlikely that the stealth mode could be used for anything else. Responding to questions via e-mail, Yates said he originally developed the app for users "to practice card counting or use it with friends at home," and only added the stealth mode as well as several other features after receiving requests from users.
Counting cards is a common practice among skilled blackjack players, and it is not illegal if you are able to perform the functions in your head. The iTunes app store has several apps that can legitimately help you with your card counting skills –including Black Jack Card Counter. However, using any device to help you count cards while you're in the casino is definitely illegal. That's why Blackjack Card Counter's stealth mode is such a questionable feature, and why casino operators will probably be keeping a close eye on iPhone owners at their blackjack tables from now on.
According to figures provided by Yates, Blackjack Card Counter sold an average of 10 copies per day before news of the app broke. Yesterday, the app sold 500 copies in the United States alone.